Social CRM is completely integrated to every aspect of BoomSonar Suite.
Employ social media as a customer service channel, connect with customers, and increase customer satisfaction.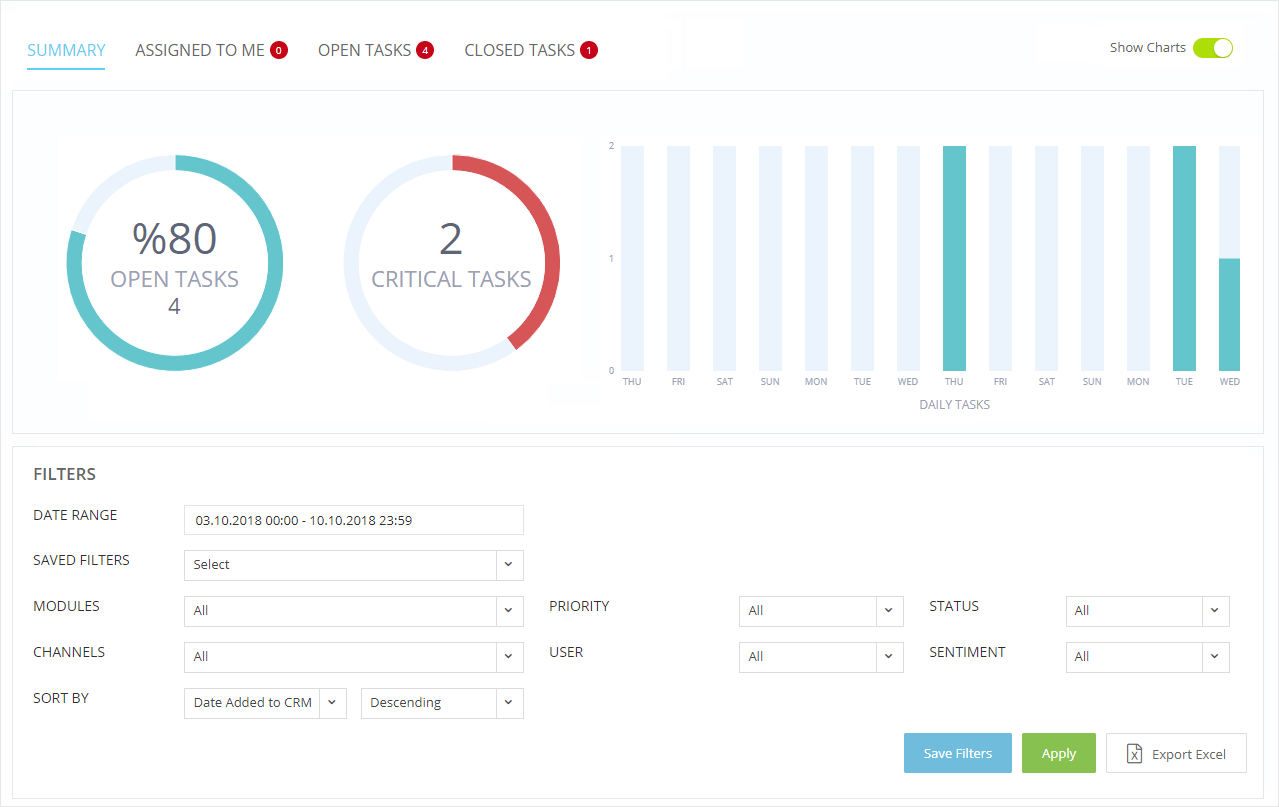 SOCIAL

CUSTOMER RELATIONSHIP MANAGEMENT
Leverage social media data to increase customer satisfaction, get better customer retention, and grow your business.
Social CRM
Reply to your customers, gather user data, analyze the patterns, and increase customer satisfaction.
Know Your Customers
Create user cards, see the details of each user, get demographic info, reach your previous conversations.
Assign Tasks
Assign tasks to your team, see your open tasks, the current situation, and team performance.
Fully Integrated
Get CRM data from each and every module of BoomSonar Suite, take action on a single integrated platform.
Leverage Social Data
Employ social media as a customer service channel, connect with the customers
Deep Data Filters
Filter your results by date, category, type, sentiment, tags, topics and more
Share Workload
Get all your team onboard, assign results, and share your workload with others
Analyze Dialogue
Reach all previous conversations with customers, know their history with you
Unlimited Results
No result limits! Monitor every conversation, analyze thousands of results
Complete Archive
All your actions are archived in the database and always ready to reach
Excel Exports
Download all your results in Microsoft Excel format with a single click
Easy Processing
Categorize, tag and analyze data with an easy to use interface
USE SOCIAL MEDIA
FOR YOUR CUSTOMERS
Social CRM is completely integrated with every aspect of BoomSonar Suite. Use the advanced listening capabilities of BoomSonar Suite to employ social media as a customer service channel!
Use monitoring, social media management, reputation management or other data to find customer queries, assign tickets, reply and connect with customers. Build deeper customer relationships with the Social CRM.
Integrated Platform to Keep Customers Happy
Analyze customer problems, find solutions
 Get data from every module of BoomSonar Suite
 Create detailed user information cards
 See the conversation history with the user
Increase customer satisfaction
 Easy integration to third party CRM systems
LEARN MORE ABOUT
YOUR CUSTOMERS
Reach All Information About Users in a Single Point
The user cards of the Social CRM system helps you to reach all your knowledge on users in a single point and helps you to know them.
Reach the data such as the previous conversations with the user, profile information, accounts on all social media channels, websites, contact information and demographic data in a single point, create custom replies and care for your customers.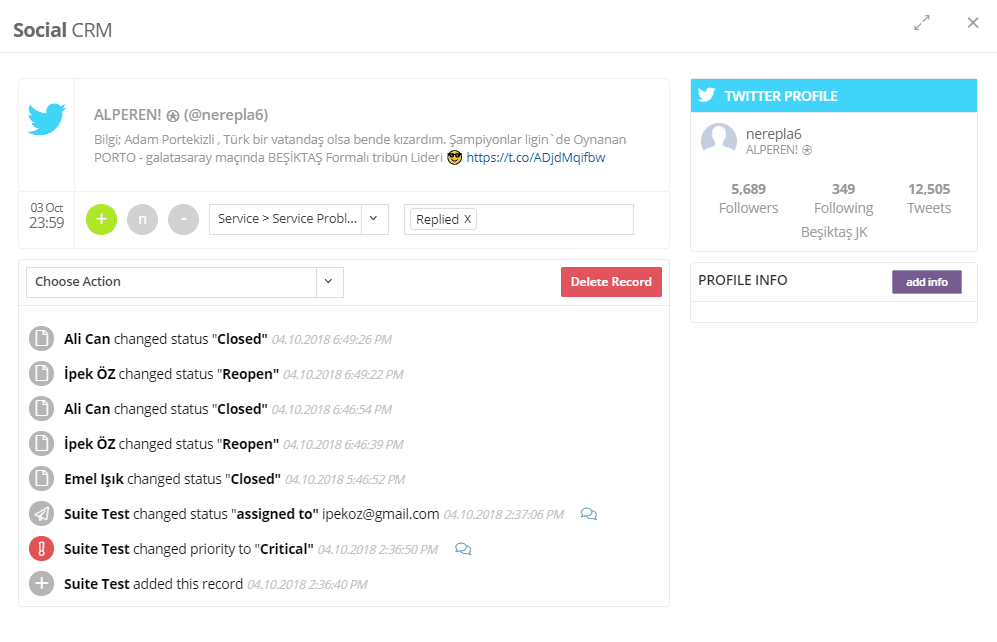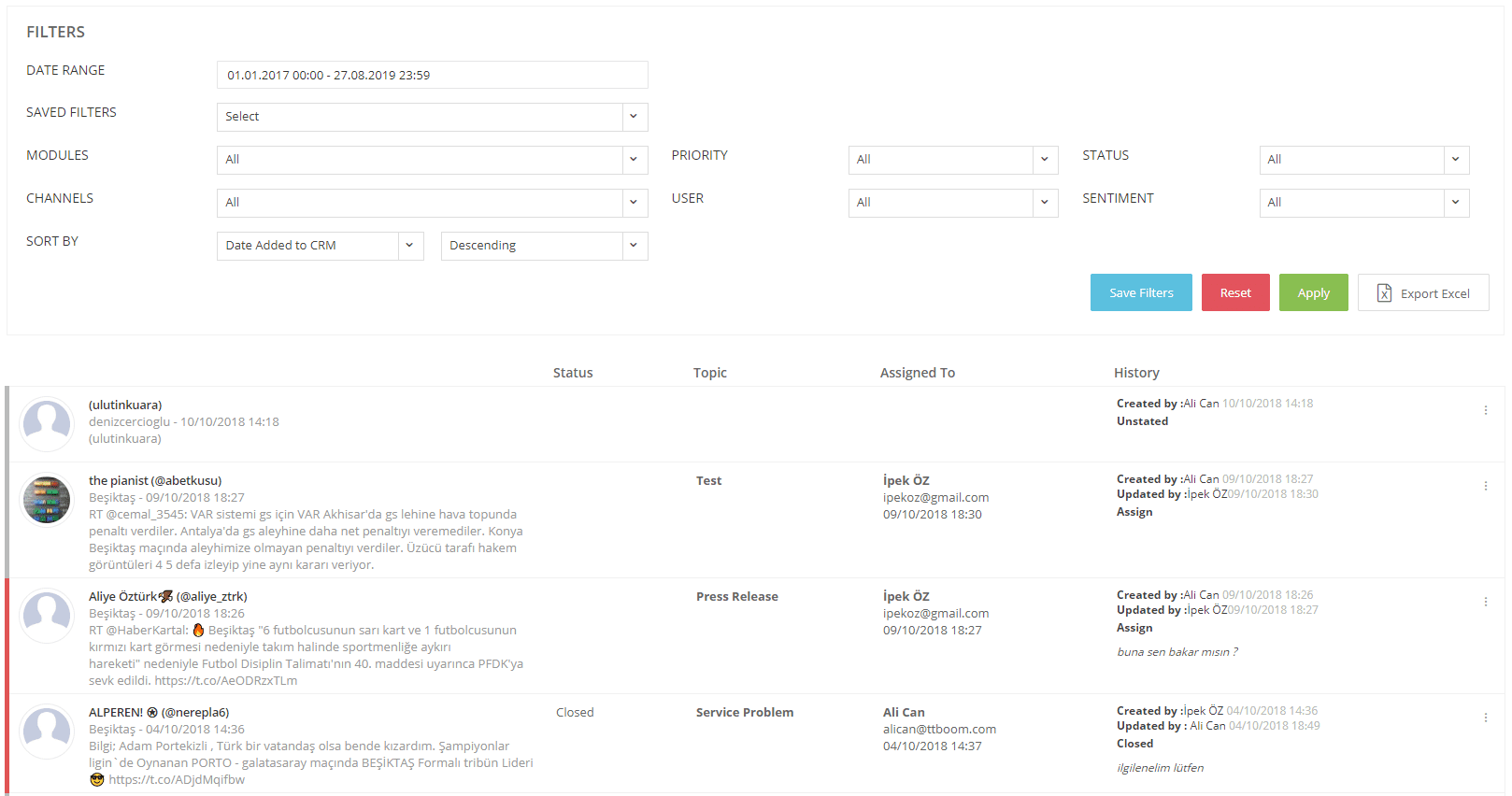 Keep Your Whole Team On Board
Social CRM is designed as a multi-user system. You can assign tasks to each member of your team, see the progress of each task, get help from other departments within your company, add notes and analyze your CRM workflow with ease.
Social CRM also has great reporting capabilities. You can easily visualize the performance of each team member, see the metrics for every user, and create a better CRM workflow.
Monitor customer feedback
Manage customer relations
Get data from all social networks
Complete integration to all BoomSonar Suite
Real-time platform
No result limits
Unlimited result archive
Get suggestions from Smart Algorithm
User cards
See previous conversations
Customizable dashboards
 Analyze workflow
Microsoft Excel data export
Advanced filtering options
Single-click data processing
Easy integration to 3rd party platforms
The most comprehensive solution for brands and agencies!
Try the BoomSonar Suite demo, start real-time social customer relationship management on all channels.