MANAGE ALL SOCIAL MEDIA
IN A SINGLE PLATFORM
Manage Facebook, Twitter, Instagram, YouTube, and LinkedIn accounts in a single platform!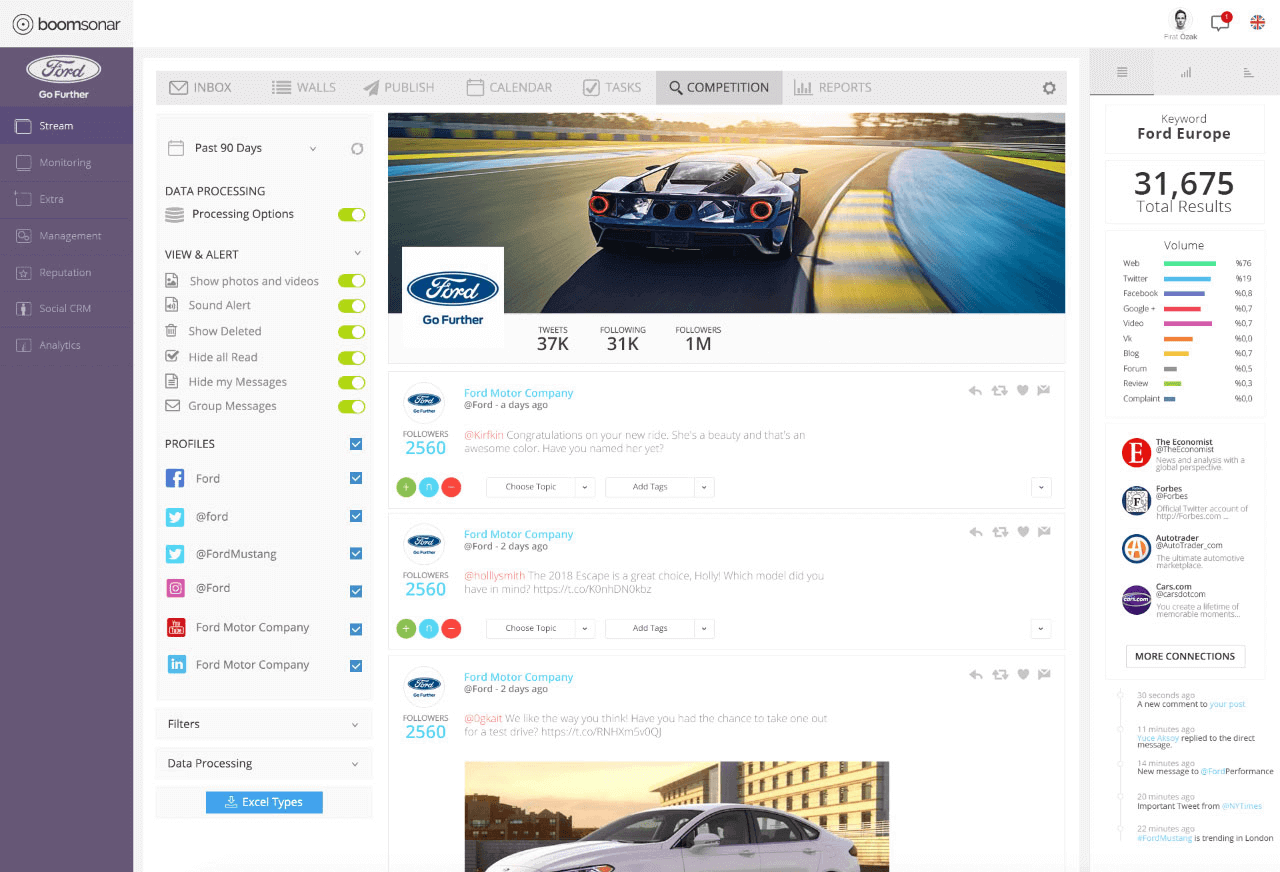 EASY TO USE
SOCIAL MEDIA MANAGEMENT
BoomManager helps brands to create and sustain a healthy online relationship with fans,
reply to customer needs, and increase customer loyalty through social media.
Manage Social Media
Create your social media content, schedule your posts, publish and interact with users!
Tell Your Story
Create the best content, see the previews, schedule and publish on social media.
Monitor Engagement
Monitor the engagement, moderate your comments, reply to direct messages
Report Your Success
Report all activities with interactive charts, Excel reports, and PowerPoint presentations!
All-in-One
Manage Facebook, Twitter, Instagram, LinkedIn and YouTube in a single platform
All User Activities
Find all users who reply, mention, follow, comment or message to your brand
Unlimited Results
Reach all of your page activities, monitor every post, analyze every comment
Alert Sounds
Get alerted by sound notifications for important activities on your accounts
Create Content
Prepare your content for your Facebook and Twitter accounts, publish directly
Real Previews
Real previews helps you to fine tune your content and create the best visuals
Schedule Posts
Schedule your posts, implement your content strategy easily
See the Comments
See the comments by users in real-time, assign tasks, and reply easily
Get Direct Messages
Read and reply the direct messages to your brand, see the conversation
Meet New Followers
Find out the users who just started to follow your brand in real time
Collaboration Tools
Ready for teamwork! All activities of your team are visible to you in real time
Integrated Social CRM
Manage all your activities with the integrated Social CRM, improve customer relations.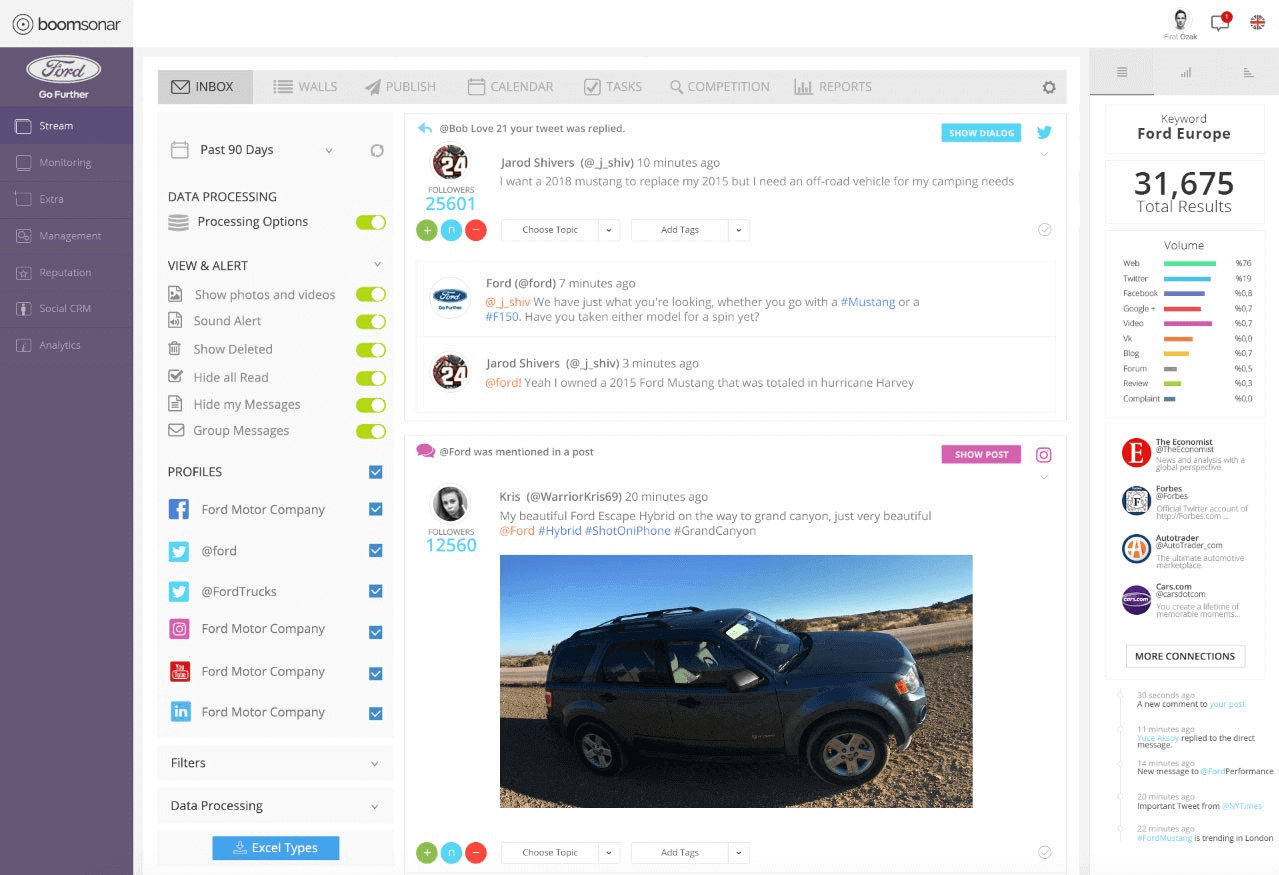 USER FRIENDLY
SOCIAL MEDIA MANAGEMENT
BoomManament is designed for brands and agencies to manage multiple social media accounts easily. No need to switch between accounts to catch what people say about your brands on different pages.
Get insights for your social media accounts, conduct Social CRM, and keep your customers happy.
No more switching between accounts all day!
Manage Facebook, Twitter, Instagram, LinkedIn, and YouTube in a single system,
Be first to hear about all activities with real-time monitoring,
Create content with 1-to-1 previews, schedule them to post whenever you want,
Manage customer relations activities with the integrated Social CRM system,
Monitor the activities of competitors, analyze their content and engagement,
Report all your activities in a customizable and interactive dashboard,
Create well designed PowerPoint presentations with the interactive dashboard.
ALL CHANNELS
ONE INTERFACE
It's now much easier to manage the social media presence of brands with numerous accounts across multiple social networks!
BoomManager helps you to manage all of your accounts on Facebook, Twitter, Instagram, YouTube, and LinkedIn, see all your messages, replies, and comments in real time, reply and message users, filter the content and analyze the results in a single inbox.
Easy Social Media Management!
 Single platform for all channels
 Manage comments
 Reply to direct messages
 See the mentions and replies
 Meet your new followers
 Assign Social CRM tasks
 See conversation history
 Tag, categorize and process results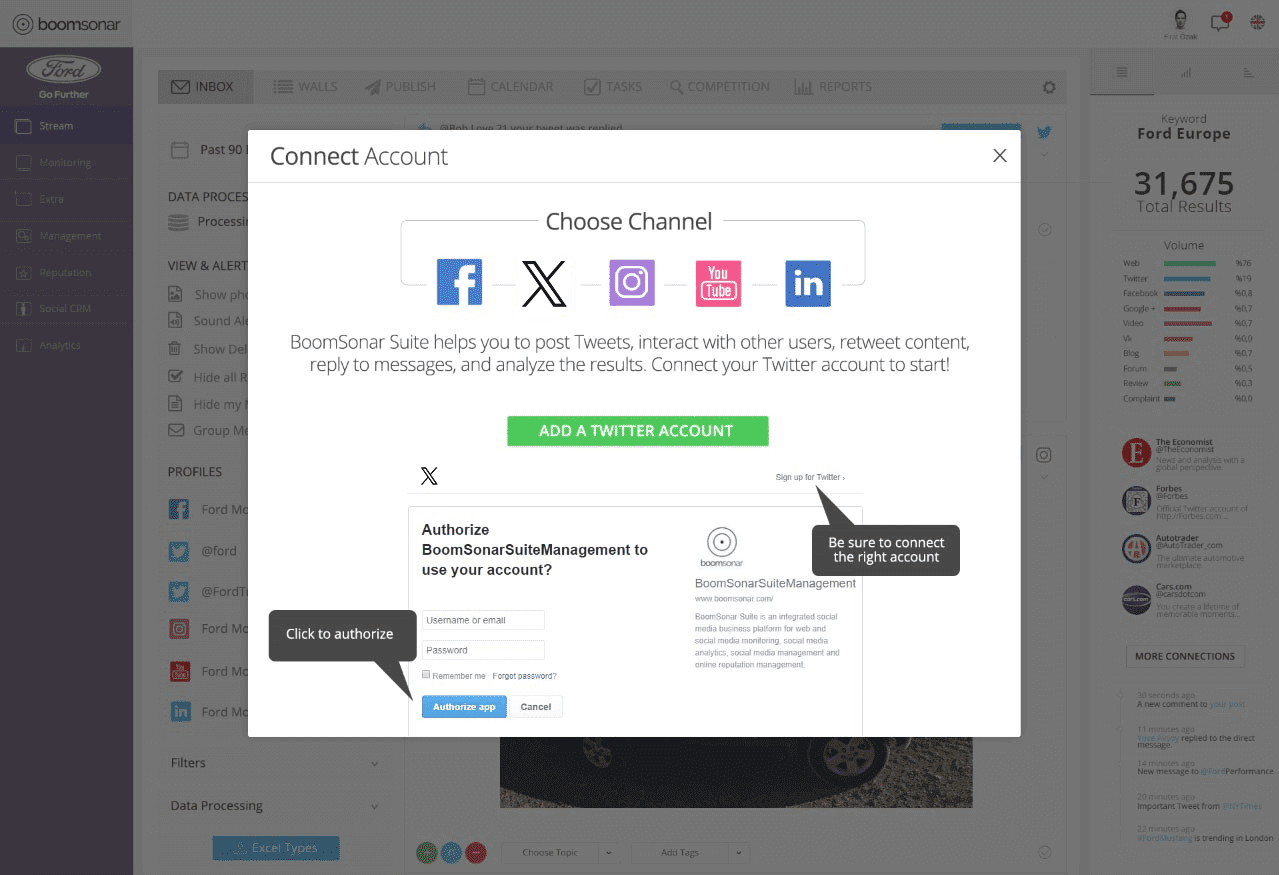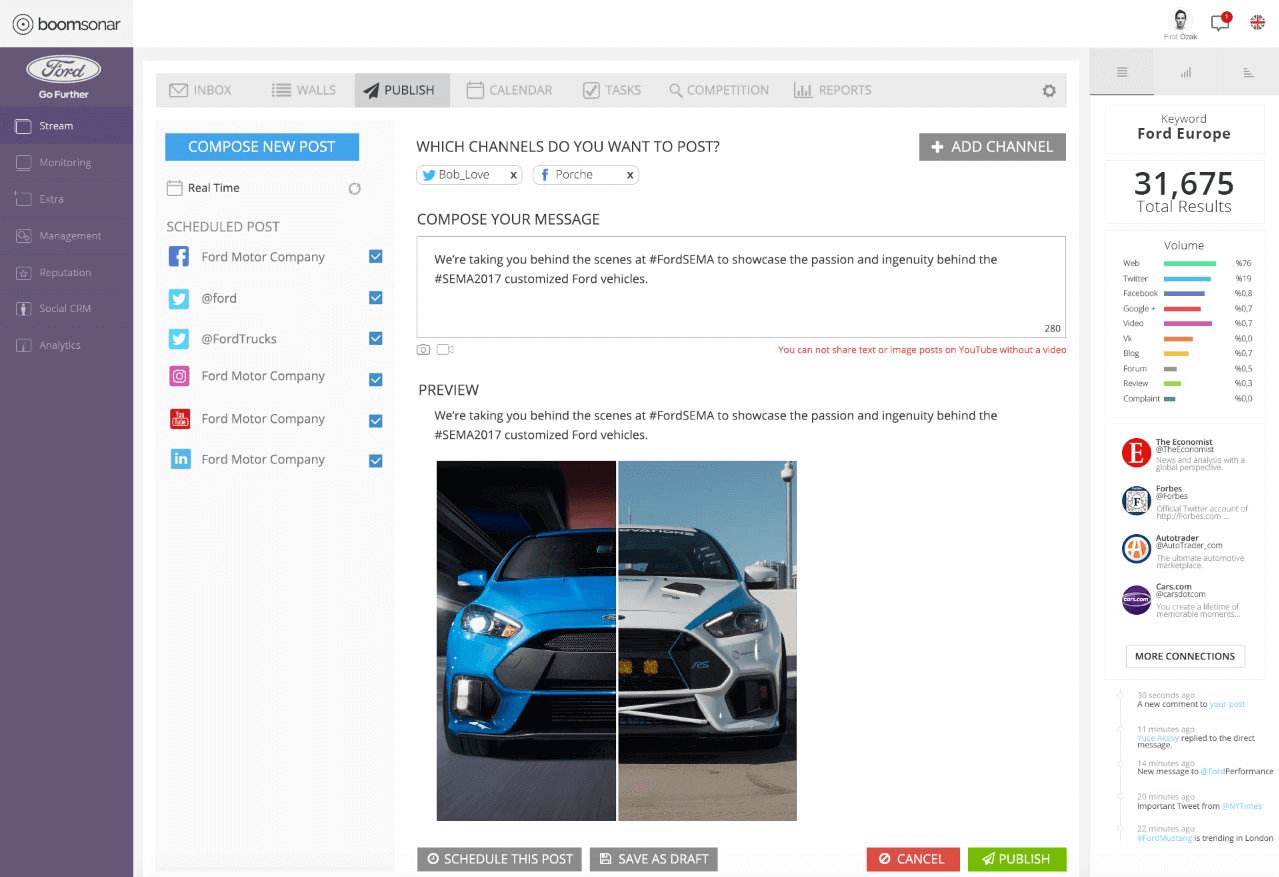 CREATE, SCHEDULE
AND PUBLISH
BoomManager provides tools for creating content, scheduling your posts with a calendar, and publishing your content in multiple channels and accounts at once. You can also preview your posts on each channel, and see exactly how they will look once published.
You can implement your content strategy with daily, weekly or monthly plans, and schedule your content to publish later.
All Your Posts in a Single Platform
 Single platform for all channels
 Create and schedule posts
 See your posts in the calendar
 See how your post will look like
 Post on multiple channels at once
 Post on Facebook, Twitter, LinkedIn and YouTube
With real-time monitoring of your competitors' owned social media assets, you can refine your social media content strategy in real time.
See the posts of your competitors, analyze the comments, measure their success and enhance your social media strategy.
Analyze Your Competitors' Performance
 See competitors' posts
 See user comments and mentions
 Easily reply to user content
 Analyze competitors' strategy
 Filter, search, and process content
 Get ahead in competition!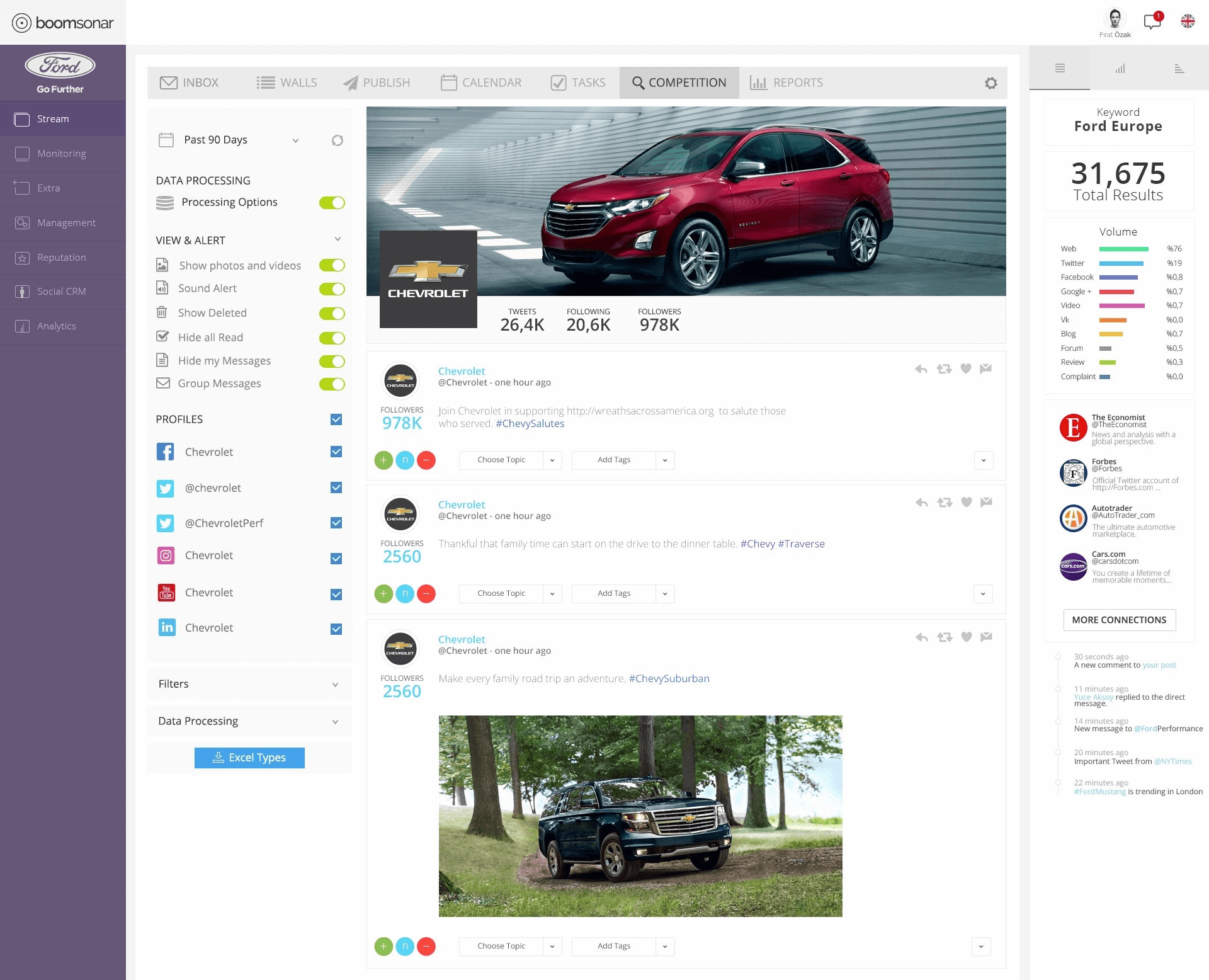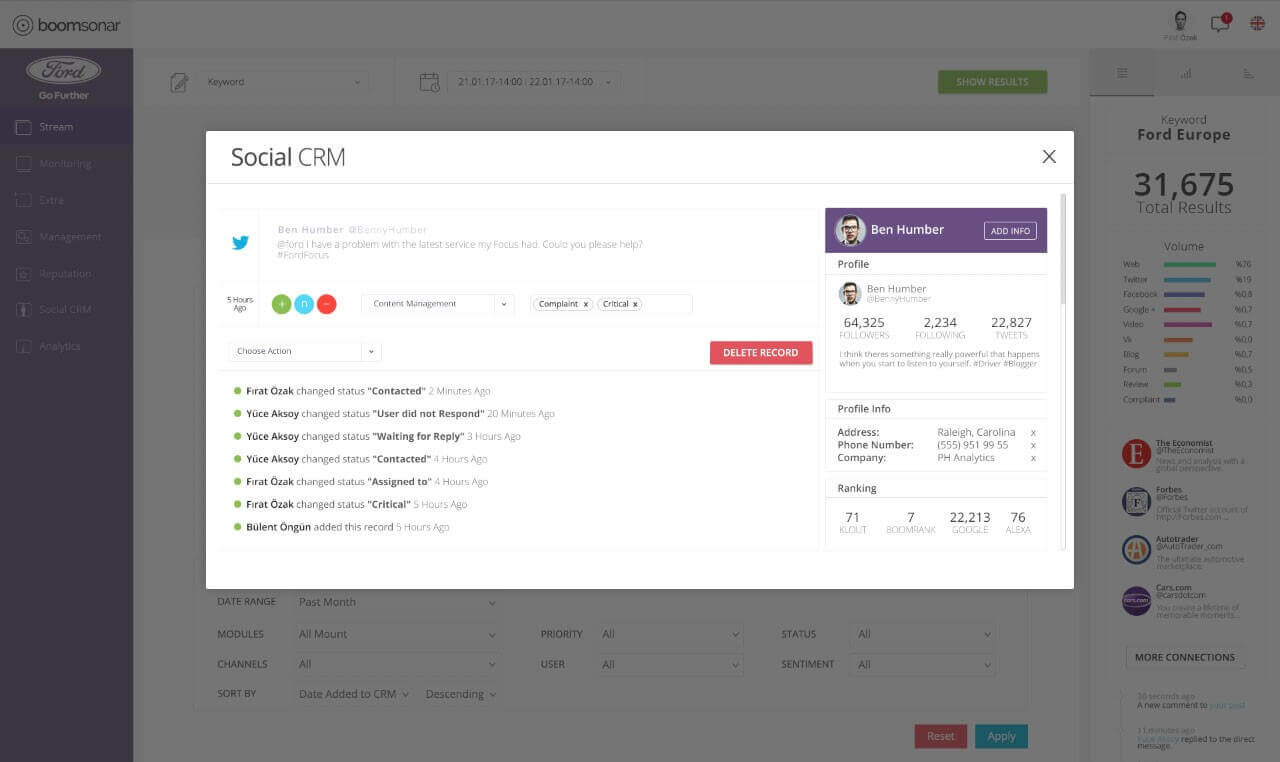 Social media account management is a team effort. Creating the best content, analyzing competitor activity, moderating comments and replying to user queries is a complicated day-to-day operation that involves different people in your organization.
BoomManagement is designed for teams. You can assign tasks to each member of your team, see the progress of each task, get help from other departments within your company, add notes, and analyze your workflow with ease.
Organize the Workload of Every Team Member
 Analyze results, mark as read
Assign CRM tasks
 Review and plan posts
 Analyze, tag, categorize the data
 Real-time synchronization. Every action of any team member is visible by others in real-time!
VISUALIZE
YOUR ACTIVITIES
The customizable and flexible dashboard of BoomManager helps you to visualize your social activities, analyze paid and organic content and reach your account insights with interactive charts and graphs.
The interface supports creating and saving multiple custom dashboards, helps you to analyze the account performance in different channels, and interact with the graphs to see the results. All graphs in the dashboard can be exported to create well-designed PowerPoint presentations.
Interactive Graphs, Charts, and Tables for your Activities
 Over 100 charts, graphs and tables
 Create your own dashboards
 Analyze channel-based activities
 Facebook Insights with easy to understand charts
 See the performance of every team member
 Create stunning PowerPoint and PDF reports
 See the trends, most active users, word clouds and more!
Unified social media account management
Unified inbox for all channels
One-stop interface for all accounts
Create, schedule and publish content
Manage Facebook, Twitter, Instagram, YouTube and LinkedIn
 Monitor competitors
Advanced data filtering & processing
 Real time alerts, e-mails, and notifications
 Microsoft Excel data export and import
 Microsoft PowerPoint and PDF reports
 Real-time result updates
Listen to and engage with followers
Engage from any account
Collaboration with team work options
 Integrated Social CRM
 Customizable dashboard
 Interactive charts, graphs and tables
Well designed reports
Single-click data processing
Integration to every BoomSonar Suite module
Start Easy Social Media Management
The best all-in-one solution for brands and agencies!
Try the BoomSonar Suite demo, start social media management, data analysis, and reporting.