SOCIAL MEDIA TOOLS
FOR BEST RESULTS
BoomSonar Suite has all the tools needed for taking real-time action, preventing crises, and managing your brand.
Get daily summaries, Twitter Trending Topic alerts, influencer notifications and crisis alarms.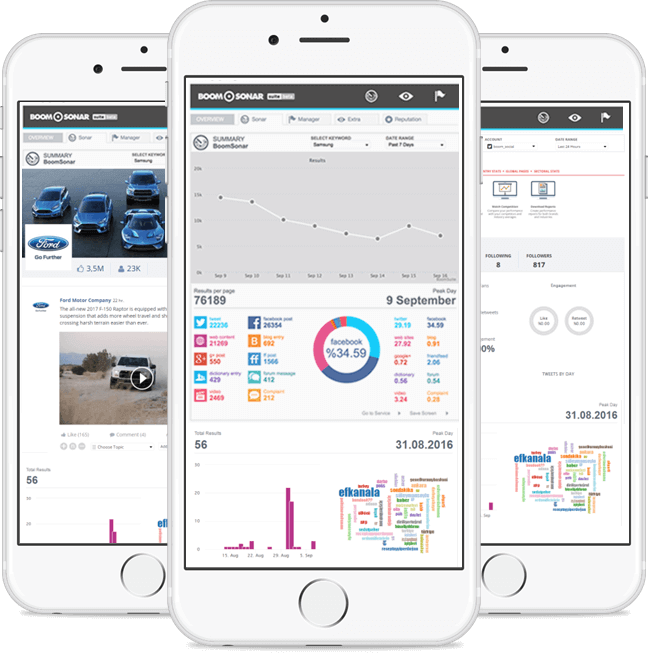 REAL TIME TOOLS
TO KEEP YOUR BRAND SAFE
Tools for every marketer, designed for 24/7 monitoring! Never be late to deal with a crisis!
BoomTools provide the tools needed for crisis prevention and management. Get daily summary emails to see the greater picture, Twitter Trending Topic alerts for marketing campaign tracking, Twitter user monitoring to better monitor influencers, and crisis alerts for identification and immediate containment of crises.
Activity Reports
Receive periodic reports on all web and social media activities to your inbox
Trend Alerts
Learn more about the latest trends, get notified when your brand is involved
Influencer Alerts
Get notified when a user with high influence writes about your keywords
Crisis Alarms
Be first to know when your brand faces an online crisis with real-time alarms
Real Time Notifications
Get notifications about your keywords in real time
User Alarms
Know when key influencers mention you, be first to act
Twitter Trending Topics
Know when you are on Twitter Trending Topics list, take action
Find Potential Issues
Get alerts for significant increases in result volume
Daily Summaries
Get the summary of your results in a single e-mail every day, see the big picture
All Channels
Summary tables for all web and major social networks, including Facebook and Twitter
Unlimited Results
Reach unlimited results from social networks, websites, blogs, news sites and more
Designed for Teams
All alerts, notifications and warnings can be shared with your whole team, and others.