THE NEXT LEVEL:
SMART ALGORITHM
The future of the web and social media monitoring is here!
INSIGHTS AND SUGGESTIONS
FOR YOUR BRAND
It's not always easy to decide how to interact with delicate situations.
The Smart Algorithm is designed to help you deal every result in the best way possible.
Smart Platform
Machine learning based algorithms to analyze your data and suggest action
For All Departments
Get solutions for all of the departments in your company.
For All Activities
Algorithms for every activity in your company
Smart Suggestions
Get tailored suggestions for every case, follow the best practices
Real Time
Smart Algorithm processes all results as soon as they are detected
Easy Setup
Just select the algorithms you want, and start using!
Extensive Suggestions
Best course of action is always in your sight with Smart Algorithm
Analyze Everything
Analyze web, social media, blogs, forums, complaint sites, videos and more!
For Every Department
Analyze data through the eyes of every department in your company
For Every Activity
Find sales leads, influencers, real-time opportunities and more
Customize to Your Needs
You can dive deep into the algorithms and create custom ones for yourself
Auto Actions
Follow interesting users, send replies, like and share automatically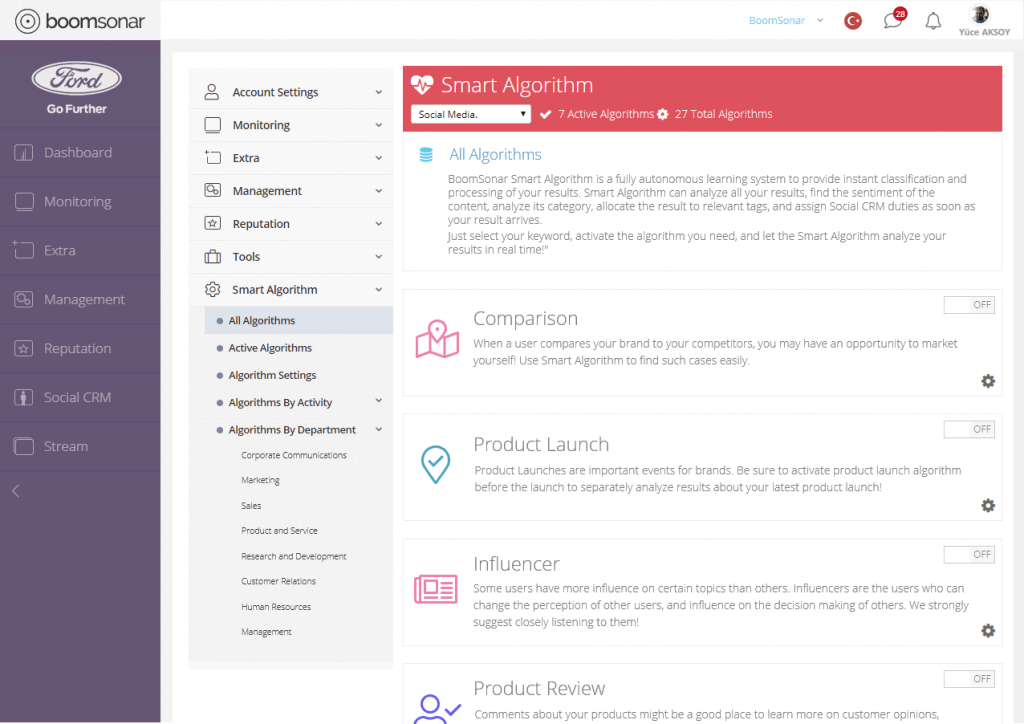 AUTOMATED DATA ANALYSIS
AND INSIGHTS
Batteries Included!
BoomSonar Smart Algorithm is a fully autonomous learning system to provide instant classification of your results. Smart Algorithm generates valuable insights, suggestions and courses of action from raw data using machine learning.
The powerful algorithms of the Smart Algorithm can analyze all results, find the sentiment of the content, analyze its category, allocate the result to relevant tags, and assign Social CRM duties as soon as your result arrives.
Just select your keyword, activate the algorithm you need, and let the Smart Algorithm analyze your results in real time! No need for a lengthy setup process, tedious data tagging or waiting for days to gather data!
ALGORITHMS
FOR DEPARTMENTS
Every department in your company has different priorities. Specialize your monitoring to their needs!
Smart Algorithm can analyze each and every result in real-time and determine which departments would be interested. It's now much easier to allocate results to different departments and teams within your organization.
Customized Algorithms for Every Department
Marketing
Sales
Corporate Communications
Product and Service
Research and Development
Customer Relations
Human Resources
Management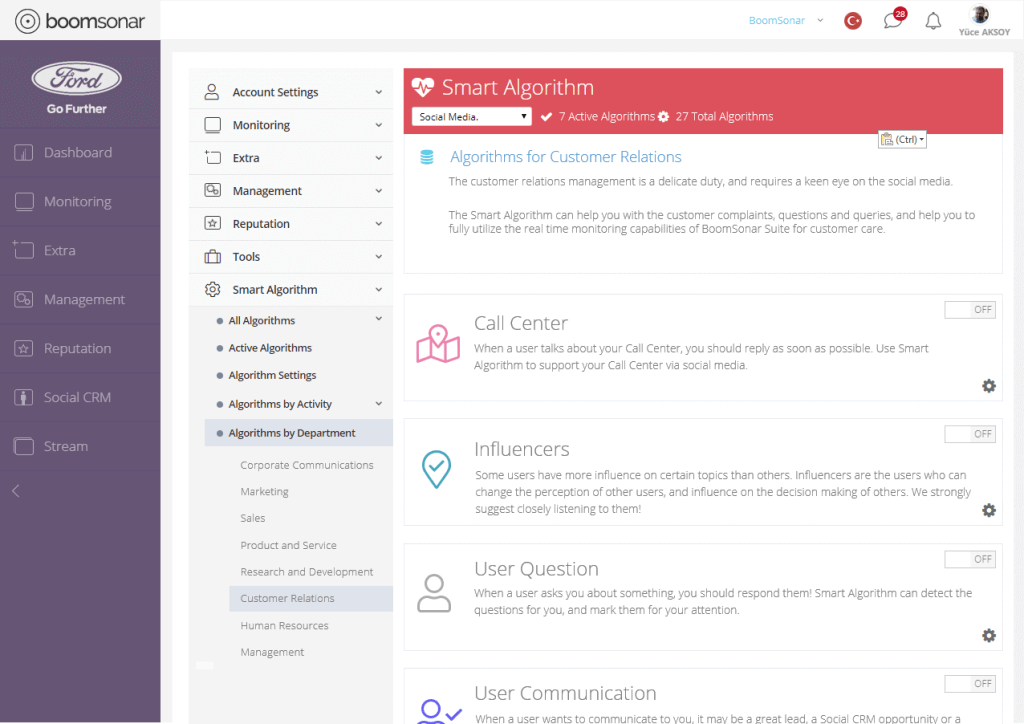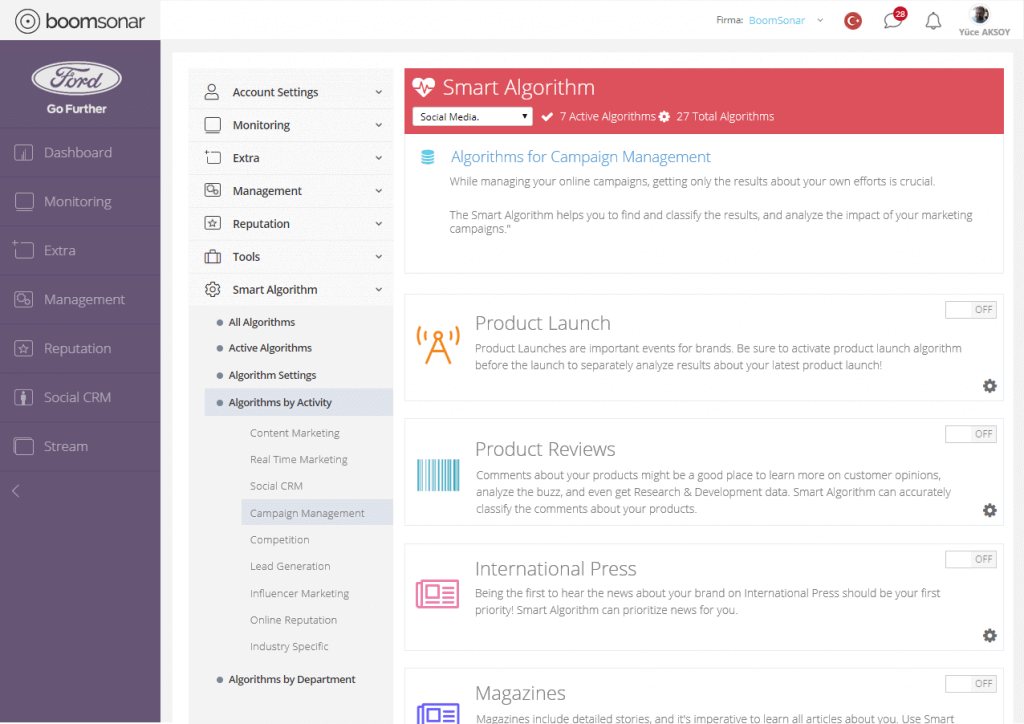 ALGORITHMS
FOR ACTIVITIES
Save time by automatically pre-analyzing every result in respect to every activity of your brand!
Smart Algorithm can detect the possible use of every result and give you the best way to act. The algorithms can classify results and provide suggestions for numerous activities.
Get Smart Suggestions for Every Activity
Content Marketing
Real Time Marketing
Social CRM
Campaign Management
Competition
Lead Generation
Influencer Marketing
Online Reputation
Industry Specific Activities and more…
DATA SCIENCE
REDESIGNED FOR BRANDS
Smart Algorithm is designed to help brands with cutting edge technologies in data analysis.
Smart Algorithm covers all web and social media data mining needs of a brand with an easy-to-use system. The out of the box capabilities of Smart Algorithm include advanced capabilities.
Fully Automated Data Analysis
Text analytics
Data classification
Sentiment analysis
Named entity recognition
Data clustering
Entity tagging
Smart Algorithm to help you analyze data
Real-time data processing
Analyze all channels
One-click setup for every algorithm
Customizable algorithms
Continuous improvements by machine learning
Get smart suggestions for the best course of action
Analyze results for every department in your company
Analyze results for every activity of your brand
Find leads, CRM opportunities, influencers, and more
Automate replies, follows, likes, comments, messages and more
Integration to all BoomSonar Suite modules
The most comprehensive solution for brands and agencies!
Try the BoomSonar Suite demo, start real-time monitoring, data analysis, and reporting on all channels.