Real-time, multi-screen command center to take action

DESIGNED FOR
DYNAMIC COMPANIES
BoomSonar Newshub is designed for the energetic teams of dynamic companies and fast reactions.
Monitor web and social media content and see the trends in a single screen, easily plan your actions.
The Command Center
Follow your company, products, message, reputation, and success!
Analyze Campaigns
Follow your marketing, social media, and image campaigns in real time.
Multi-Screen Dashboard
See the stories unfold on up to 12 screens at the same time
Real-Time Visualization
See how your hard work pays out, and visualize how your story reaches to users
Analyze the Trends
Visualize the trends, analyze their progression, find real-time opportunities.
Real-Time Alerts
Get alerted when an important event or user activity takes place!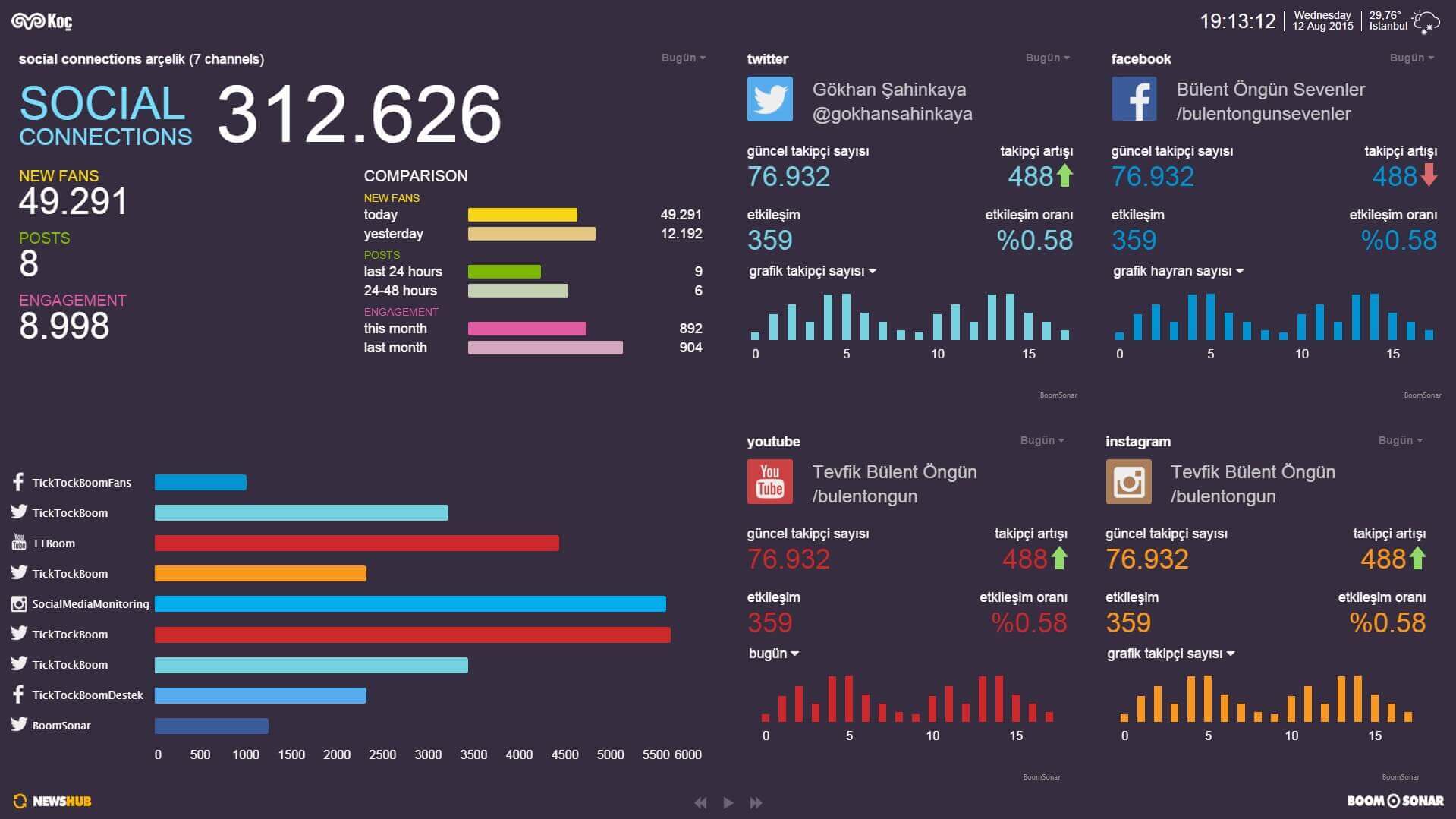 There is more in the data that meets the eye. When you look deeper, you can find the patterns and opportunities.
Visualize your results, see the trends, latest news, and your performance; develop your strategy and take action.
See the Deeper Meaning in the Data
See the latest social media trends
Find the trending news stories
Visualize your web and social media results
Analyze social media account performance
Discover the latest opportunities for you
Implement your strategy and see the results
Take Better Decisions Using Your Data
BoomSonar Newshub service is a real time command center, focusing on the real-time delivery of summarized data. You will be the first to see the breaking news, social media activities and online trends.
BoomSonar Newshub provides all the necessary information for analyzing the web and social media, following marketing campaigns, detecting and managing crises, Social CRM activities and more in real time!
Use your real-time knowledge of the latest events, analyze the trends, and improve your online strategy.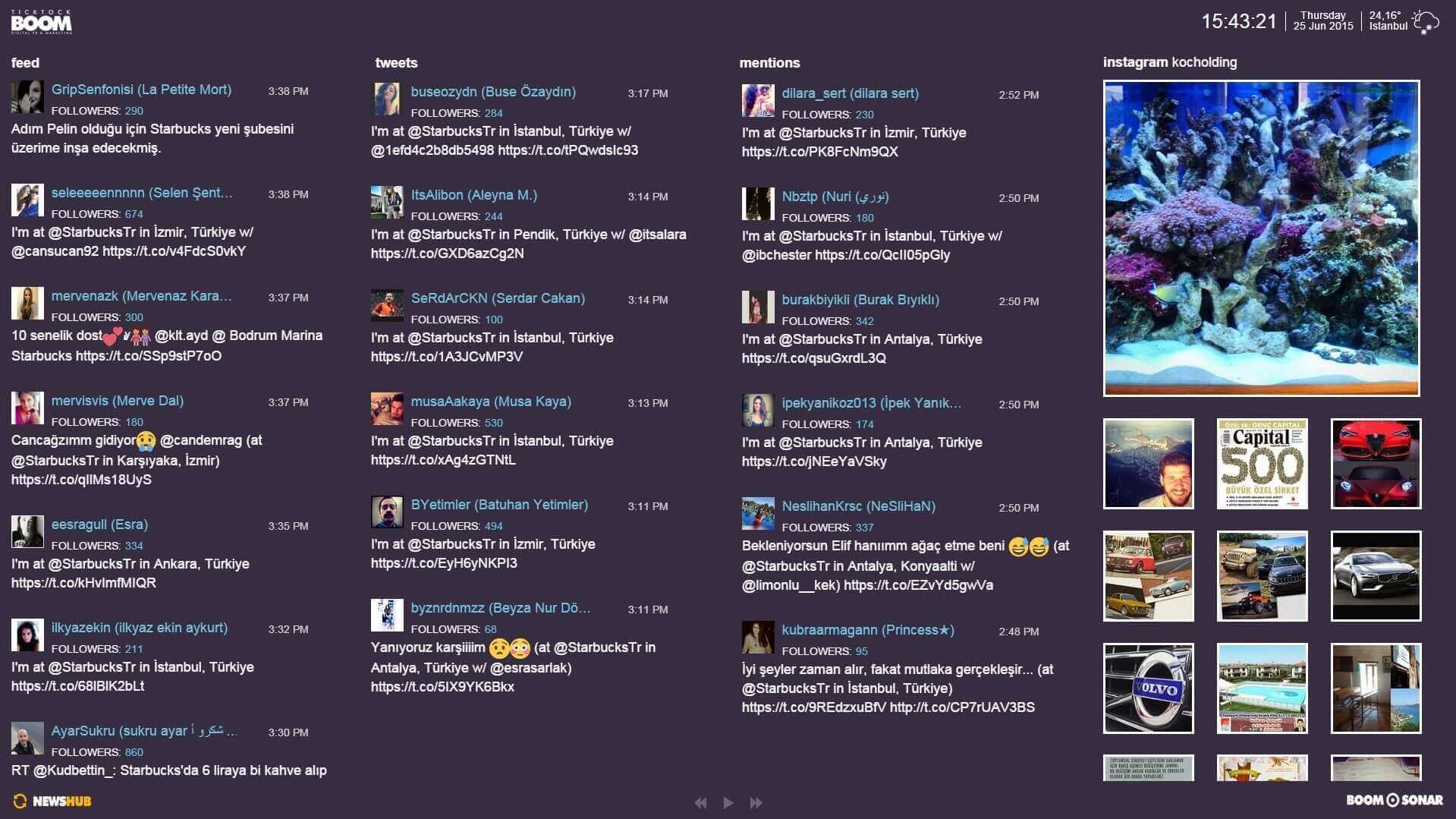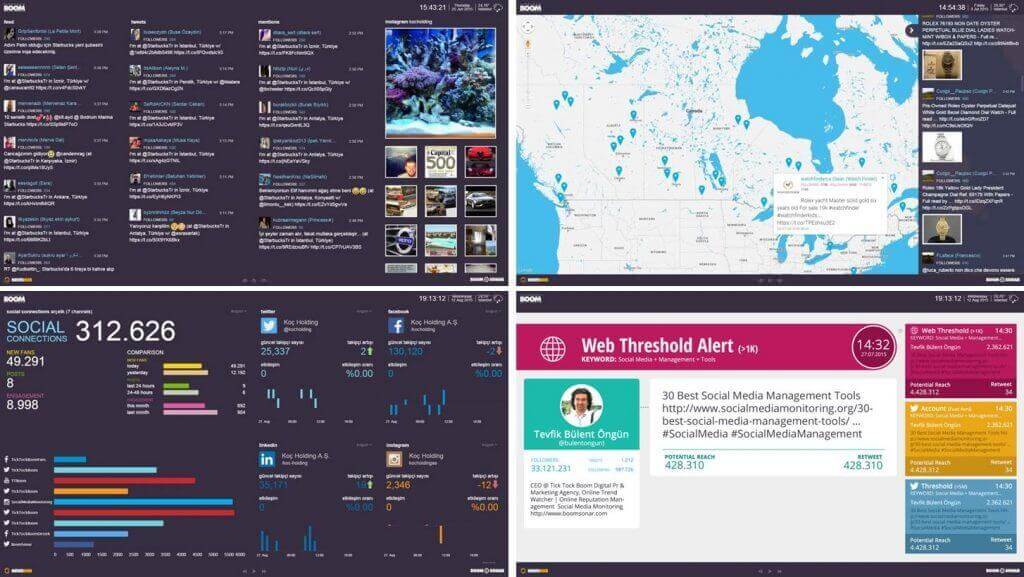 Find the Outcome of Every Decision You Take, Instantly
The real-time Newshub helps you to see each and every action you take, and adjust your strategy on-the-fly. Get data from websites, national news sites, local news, blogs, forums, and all social media channels to see the results of your strategy, find real-time marketing opportunities, and take action.
Real-time visualization
Up to 12 dashboards, at the same time
Social media, websites, blogs, forums, complaint sites, and more
See the latest news from major news sites
Google Trends, X (Twitter) Trending Topics, and YouTube Trends
Real-time analytics
Track campaign results on web and social media
Find sales leads, CRM opportunities, and more in real-time
Analyze the activities of your competitors in real-time
Find mentions, replies, comments and more about your brand
Maps to analyze where people are talking about your brand
Customizable interface
 Interact with users in real-time
Spam-free results with Smart Algorithm
Alerts for important results
Integration to all BoomSonar Suite modules
Start Data Visualization Now
The most comprehensive solution for brands and agencies!
Try the BoomSonar Suite demo, start real-time monitoring, data analysis, and reporting on all channels.