MONITOR
WEB & SOCIAL MEDIA
Smart monitoring platform for gathering actionable insights from big data.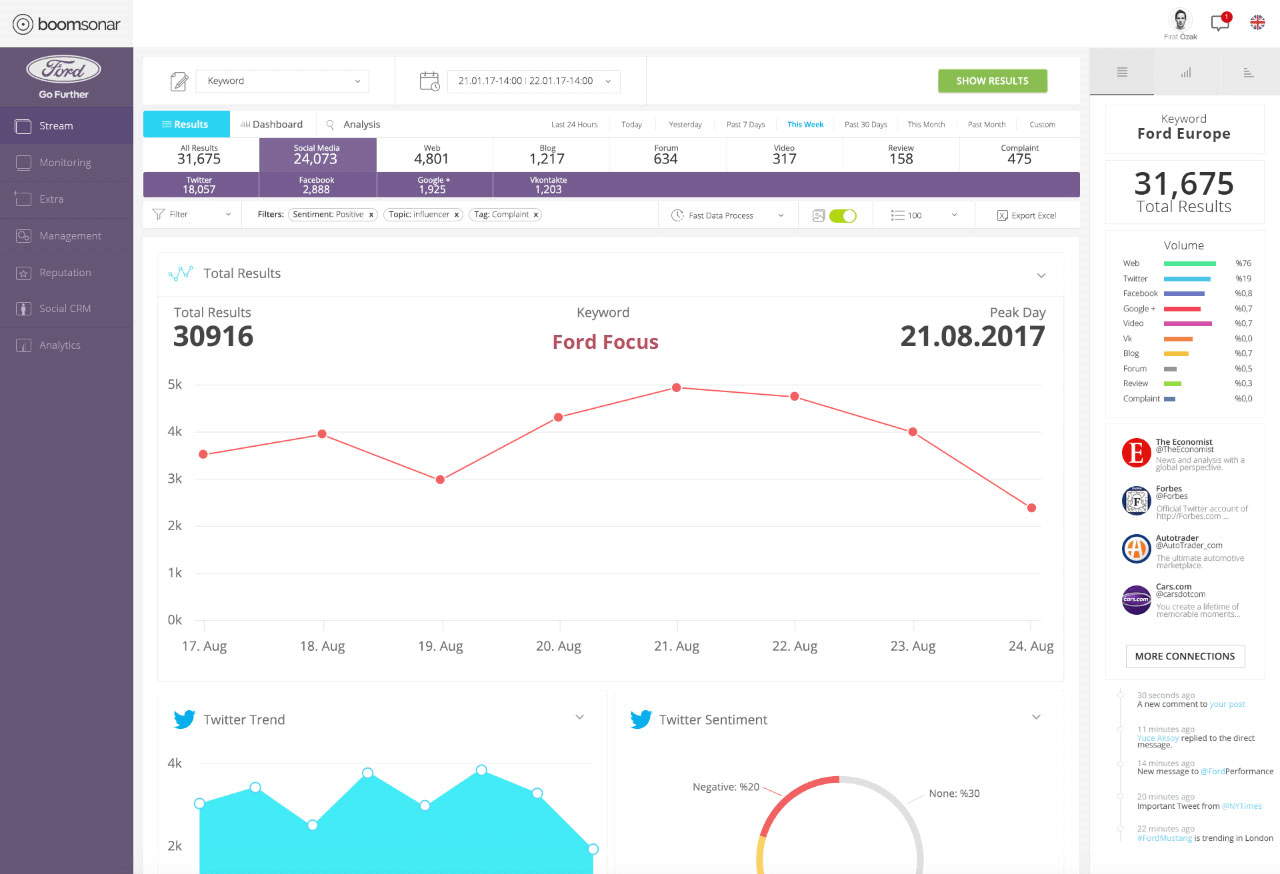 UNLIMITED DATA
FOR YOUR BRAND
Monitor millions of websites, X (Twitter), Facebook, Instagram, YouTube, Vimeo, LinkedIn, Foursquare,
Vkontakte, blogs, forums, comments, review sites, sharing sites, bookmarking sites and more!
All Social Networks
Cover all major social networks, including Facebook, X (Twitter), and YouTube
Web Monitoring
Monitor and analyze websites, news sites, portals, blogs, forums and more!
Smart Algorithm
Analyze results with machine learning, get suggestions for the best course of action
Integrated Social CRM
Social CRM is integrated with all results to help your customers
Real-Time Results
Listen to the conversations in real time, be the first one to know
Unlimited Results
Reach unlimited results from social networks, websites, blogs, news sites, and more
Keyword Monitoring
Monitor your results with detailed keywords, use logic operators for the best results
Easy Data Processing
Categorize, tag, and analyze your data with easy to use interface
Excel & PowerPoint
Download your results to Microsoft Excel, get stunning reports in PowerPoint!
Unlimited Archives
All results are kept in a ready to use archive. Compare your campaigns with previous ones
Time Based Search
Search in any time period you want, follow the time based change and trends in the buzz
Monitor the Competition
Follow competitors, compare performance, analyze their campaigns and find insights
Rank by BoomScore
Rank your results by BoomScore, find the most important content easily
Local News
Monitor local news sites and websites, discover trends in different regions
Follow Blogs & Forums
Follow the results from millions of blogs and forums, know the opinions of bloggers
Deep Filtering Options
Use multiple filters and in-depth result search to find the results you need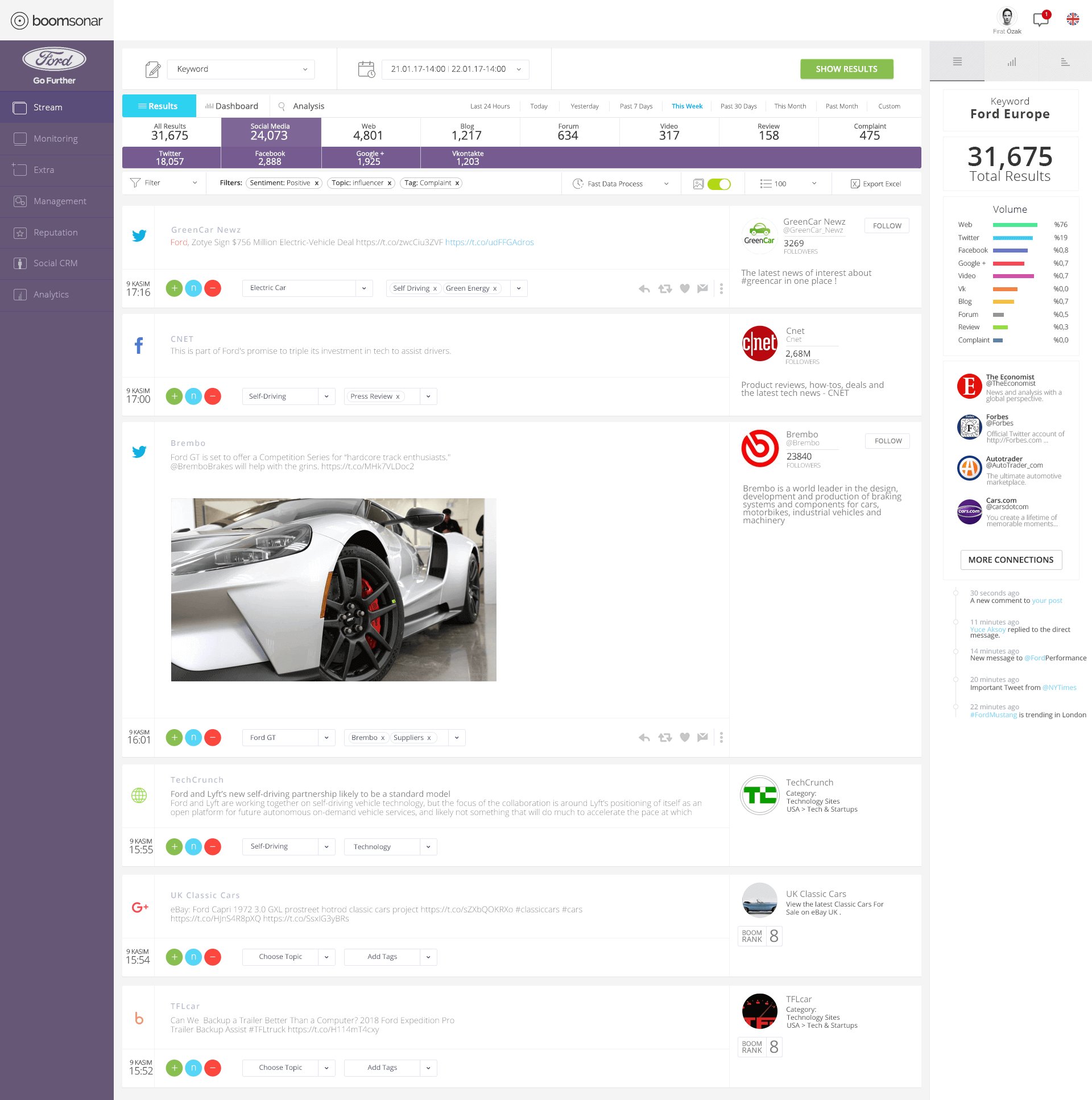 LISTEN TO WHAT PEOPLE
SAY ABOUT YOU
BoomMonitoring is designed to provide real-time monitoring of the online conversation. Get insights for your company, organization, or leaders on the web and social media. Be informed about every topic, from customer relations to corporate communications.
Find All Results, Analyze, Take Action And Report!
Measure the key metrics
Analyze marketing campaigns
Compare your brand with competitors
Monitor the conversation
Listen to what people say about your brand
  Analyze the news articles, read blogs.
Find emerging trends
Monitor every result in real time! Find the news articles, posts, comments, videos and images posted on millions of news sites, portals, forums, blogs, review sites and all major social networks.
X (Twitter) PowerTrack
 Facebook Pages
Linkedin
Foursquare
Vkontakte
Video websites
YouTube, Vimeo and Dailymotion
Tumblr
WordPress firehose access
Disqus firehose access
Over 330 million websites
 Local News
Websites, blogs, forums, portals
Sharing sites
Bookmarking and review sites
Best local news coverage
No result limits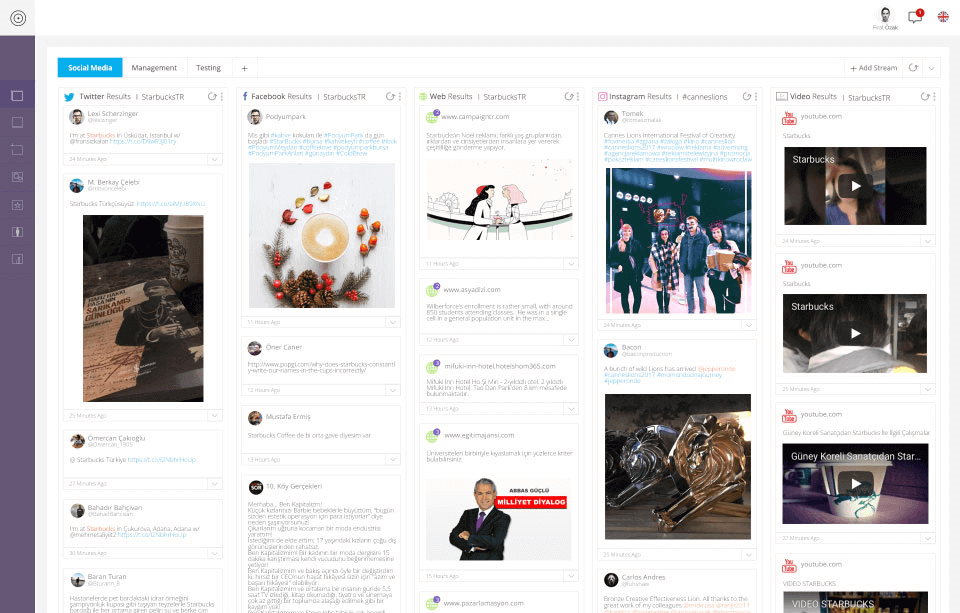 DRILL DOWN AND
ANALYZE THE CONVERSATION
Find the sentiment of your results, assign topics and tags, take notes, add users to your lists, find influencers, reach early adopters, increase customer satisfaction. Analyzing data is easy with the processing options and advanced data tools of BoomSonar Suite.
From Raw Data to Actionable Insights
Powerful data processing options
Automatic spam filters
PowerPoint and PDF reports
Metadata for each result
Machine learning based data processing engine
Demographic insights
Mention, hashtag, and link analytics
Export, process and import your data in Excel
Smart suggestions with Smart Algorithm
FROM THE BIG DATA
FIND THE ANSWERS
Powerful query options, multilevel filtering, deep drill down options, in-depth result search and single click data processing. Analyze thousands of results with easy to use filters and tools.
With over 1.500 categories to explore, the deep segmentation is unique to BoomSonar Suite among all monitoring tools.
BoomSonar Suite allows filtering of both web and social media data, and to process all results with a single click. The fast data processing options are extremely useful for even the largest research projects.
Never Get Lost in the Big Data!
Search with keywords, queries, Boolean operators
Search locations, hashtags, mentions, and users
Search in content, summary,full text, bio, location, user
Search link, domain, site title, and more
Search by BoomRank, followers, following, Tweet count
Filter your data by country, language, or category
Filter results with sentiment, topics, tags and notes
Wildcard search operators
Language, country, and channel queries
Sort by followers, Tweets, BoomRank, Retweets
'Contains' and 'Not contains' queries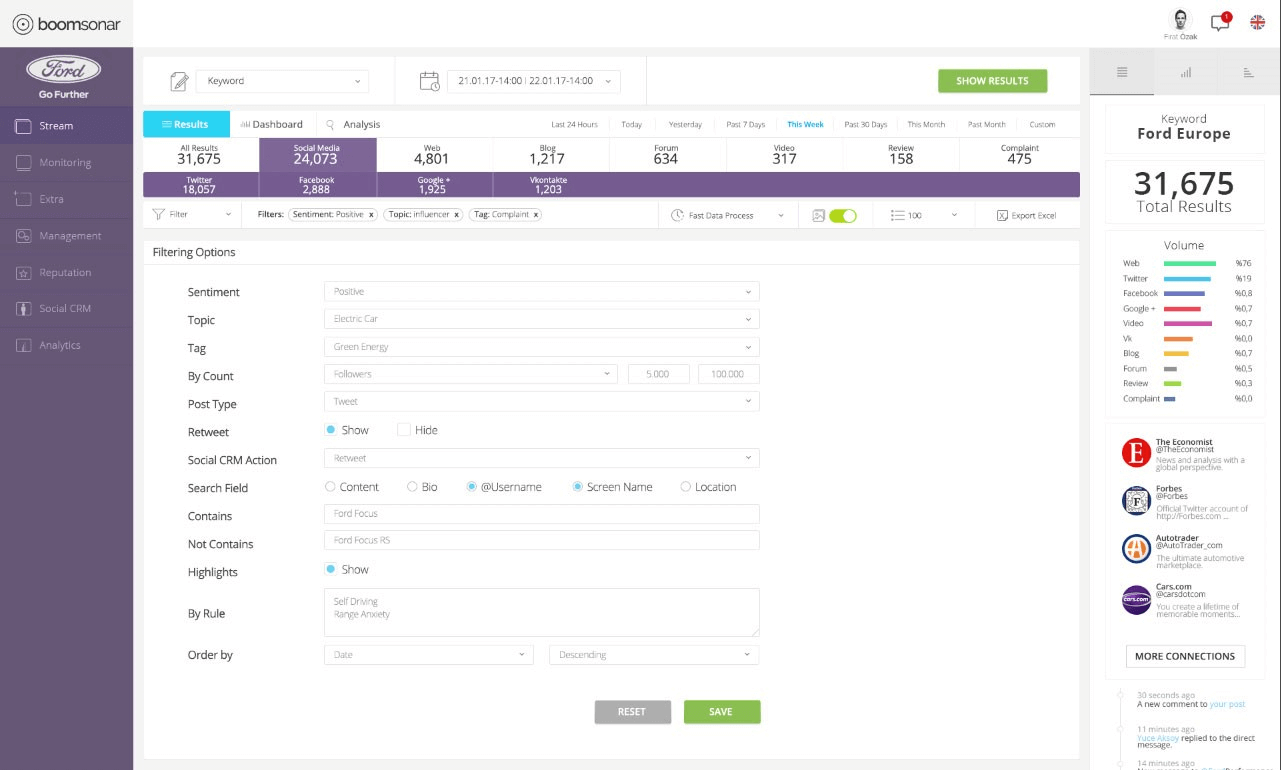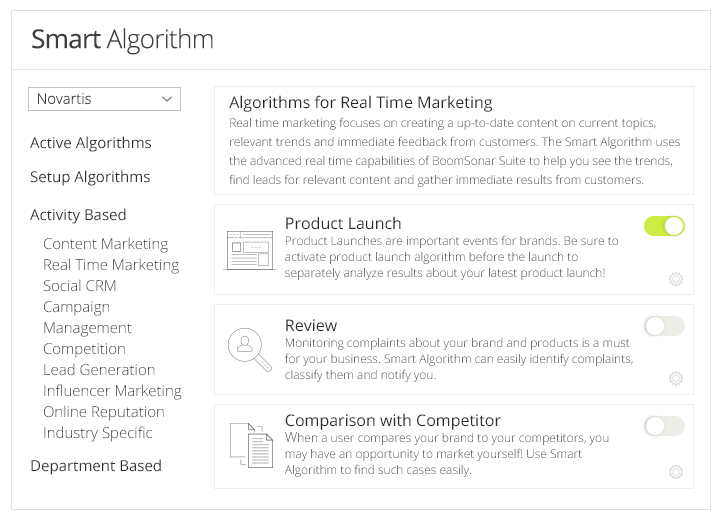 BoomSonar Smart Algorithm is a fully autonomous learning system. It provides instant classification, data processing, smart suggestions and business intelligence insights.
Smart Algorithm provides actionable insights, notifies you about the most important results, suggests the best courses of action for every result, takes action for you; and helps you make the best use of your monitoring results.
BoomSonar's unique Smart Algorithm has numerous functions for each department and activity of your company.
Let The Algorithms Work For You!
Machine learning using big data analysis, ready to use!
Easy set-up, increased productivity
Activity based algorithms for marketing, CRM, campaigns, competition, lead generation, reputation and more
Department based algorithms for Marketing, Corporate Communications, Sales, Customer Relations, Human Resources
User friendly and flexible dashboard of BoomSonar Suite helps you to analyze your results with ease in real-time.
Keep an eye on your competitors with customizable charts and tables, visualize the results, and gather insights in a single dashboard.
BoomSonar Suite allows filtering of both web and social media data, and processing of all results with a single click. The fast data processing options are extremely useful for even the largest research projects.
Real-Time Charts and Graphs for All Results
Completely customizable dashboard
Over 300 graphs, charts and tables
Interactive graphs
Filter results with sentiment, topics, tags, and notes
Interactive hashtag, mention, user and text clouds
Real-time maps with result locations
Language, country, and channel details
Download your dashboard as PowerPoint or PDF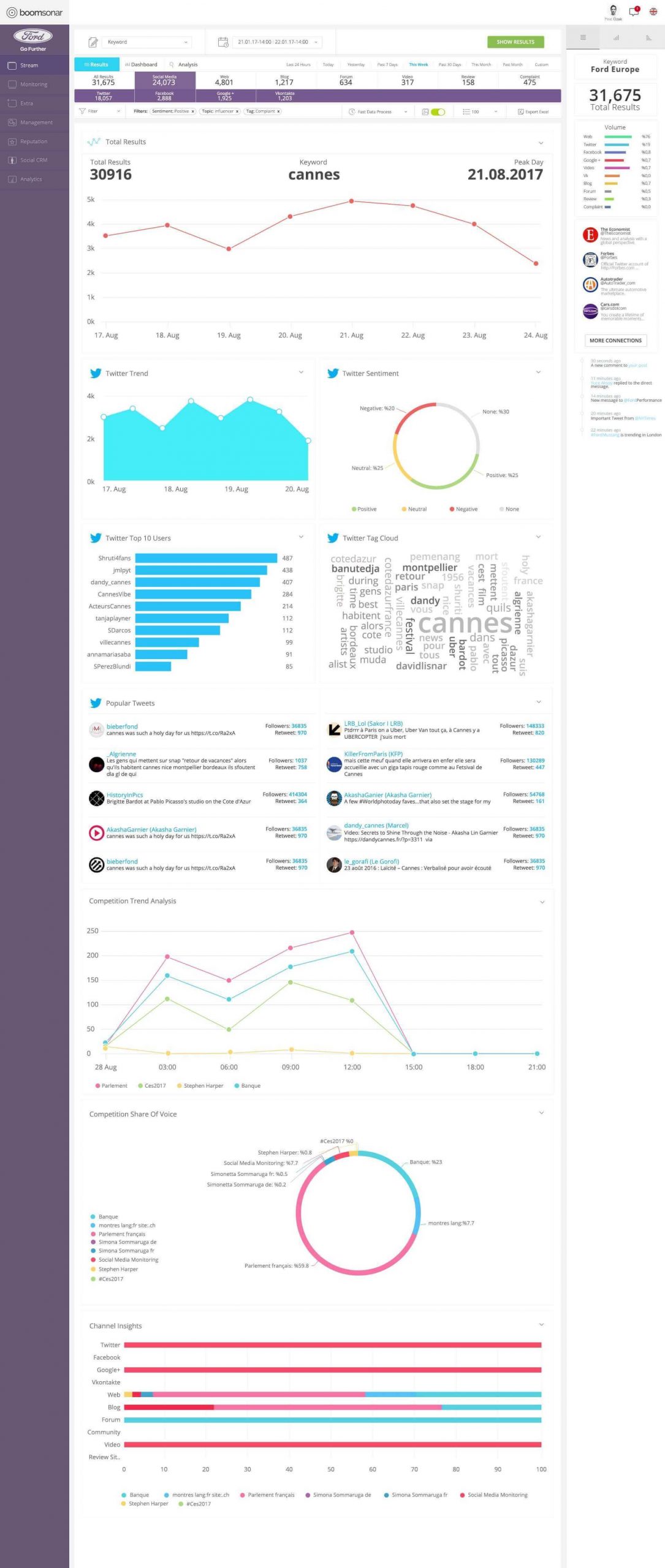 Monitor your brand, products, and executives
Monitor competitors
Monitor all social networks
Local, national, and global news sites
Real-time results
Unlimited results
Unlimited result archive
Keywords, queries and Boolean operators
Location, hashtag, mention, and user search
Wildcard search operators
Customizable dashboards
Over 300 charts and graphs
Microsoft Excel data export and import
Microsoft PowerPoint and PDF reports
Rank results with BoomRank
Spam-free results with Smart Algorithm
Unique website classification with over 2000 categories
Advanced filtering options
Single-click data processing
Integration to every BoomSonar Suite module
Start Web & Social Media Monitoring
The most comprehensive solution for brands and agencies!
Try the BoomSonar Suite demo, start real-time monitoring, data analysis, and reporting.