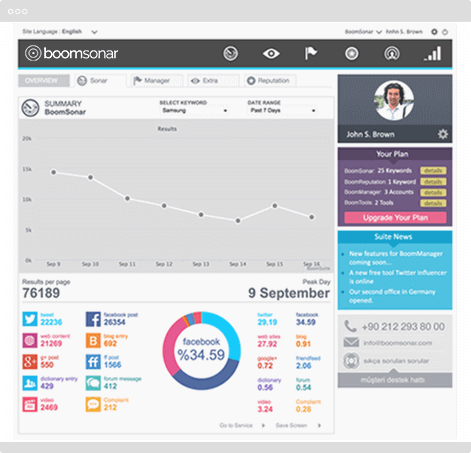 All in One


Social Media Business Platform
Listen, measure, analyze, publish, connect, engage and protect
An excellent social media monitoring tool : BoomSonar
Real time web and social media monitoring for over 20 million websites and all social networks
Monitor millions of deeply categorized websites
No spam results, no wasted work hours with SmartAlgorithm®
Localized results for every country
Integrated Social CRM Module
Outstanding
Social Media Monitoring Tool

with Deep Data Segmentation
Websites monitored by BoomSuite are categorized in depth with BoomSonar SmartAlgorithm in respect to their published content. With this evaluation, BoomSuite offers deep segmentation and categories for all the website results, including news sites, forums and blogs.
With deep data segmentation, you can gather insights about the spread and distribution of content over different website categories.
Localized Results
The news websites in BoomSonar are categorized by the countries, states, provinces and districts. With the geographical breakdown of the content sources and localized results, BoomSuite provides detailed real time insights about national, regional and local coverage of the topic.
With BoomSonar social media monitoring tool, you can monitor where the online activity is happening, and further develop your geo-targeted marketing campaigns.
24/7 Alarms
BoomSuite allows you to create alarms for your keywords, helping you to monitor your online activity continuously. Be notified for unexpected peaks in results, Twitter Trending Topics regarding your brand and results from users you want to follow!
Get your web and social media listening alerts via e-mail, be first to hear 24/7!
User Friendly Interface
BoomSuite provides an excellent interface, designed to be understandable, high performance and flexible. The interface allows for fast data processing by providing detailed filtering, result language identification and automated result ranking.
The user interface is highly customizable, allowing flexibility and ease-of-use. The main dashboard provides all the essential information at a glance, while the interactive graphics allow users to reach detailed results with just one click.
Customizable Real Time Dashboards with Over 150 Different Tables and Charts Options
Customize your dashboard, select the graphs, charts and tables you want! BoomSonar Suite provides over 150 different charts and tables for gathering real time insights, measuring the buzz and analyzing web & social media results. Tag and categorize your results, select sentiment and see the graphs in real time!
Big data visualization for social media monitoring has never been this easy.
Choose Your Modules and Start Using in Minutes
No more lengthy interviews, no need to wait for monitoring, no warm-up time! BoomSonar Suite is designed for fast response for every emergency. Just buy it online, setup your keywords and start your real time monitoring, social media management and online reputation management in a few minutes!
Fair Pricing Model
BoomSonar offers the best tools for your online monitoring and marketing efforts with low and stable pricing. With prices independent from the number of results, you will never pay extra for unexpected peaks in your web and social media result count.