Social Media Tools
For Every Marketer
Tools for every marketer, designed for 24/7 monitoring! BoomTools provide the tools needed for crisis prevention and management for marketers. Never be late to deal with a crisis!
BoomTools includes daily summary e-mails to see the greater picture, Twitter Trending Topic alerts for both marketing campaign tracking and crisis management, Twitter user monitoring to better monitor influencers and Command Center for visualizing search results.
Trending Topic Alert
Get notifications for Twitter Trending Topics about you
Follow Users
Be alerted when certain users Tweet about you
Command Center
See all your online activity in a real time dashboard
Daily E-Mails
Get daily summaries of your keywords to your mail inbox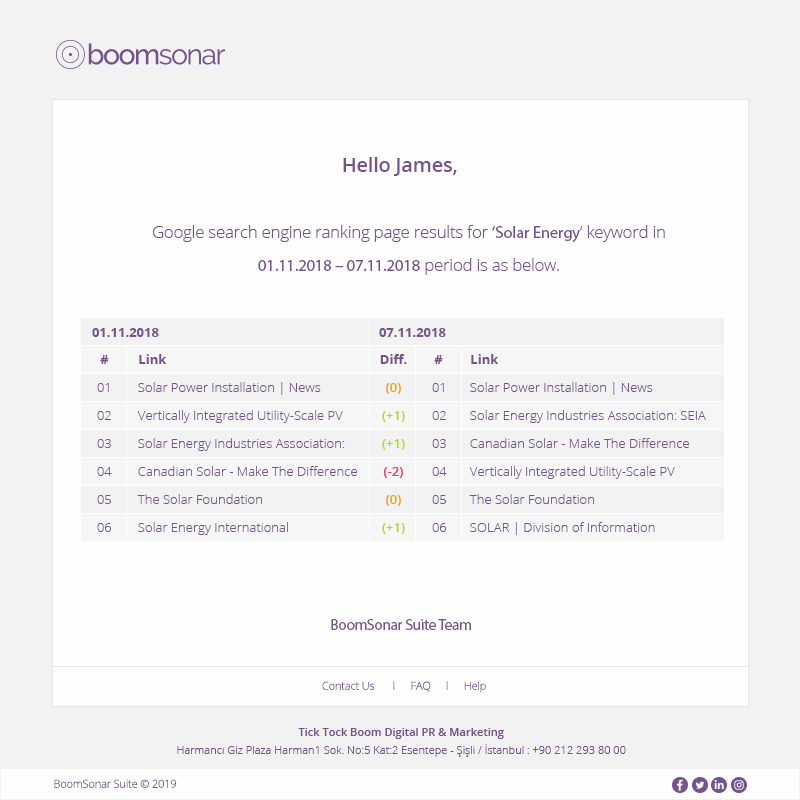 Be Alerted by
Twitter
Activity
Popular microblogging site Twitter is a crisis-rich social media channel. Twitter might be the ground zero of online crises in multiple ways: Influencers might Tweet negatively about you, or multiple users may team-up to create a Trending Topic. Both scenarios require careful and continuous monitoring.
BoomTools Trending Topic and user monitoring services provide you 24/7 monitoring of these dangers, helping you to be ready for crises and take action.
Real Time Notifications
Get notifications in real time, be the first one to know
User Alarms
Know when key influencers mention you, be first to act
Trending Topic Alerts
Know when you are on Twitter Trending Topics list, take action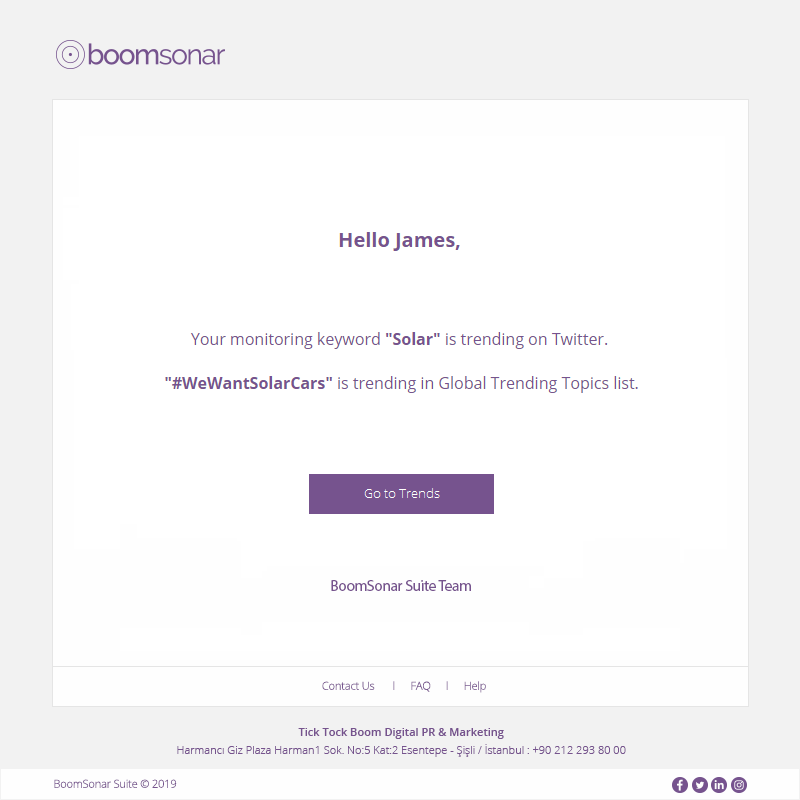 See your online activity in your wall real time! Command Center is designed for brands with hundreds of daily results, providing real time insights and notices for online activity.
Responsive and lightweight, Command Center is the perfect tool to monitor yourself and competitors in a single screen! Command Center also comes with Smart TV browser compatibility. Open up your TV and watch your online activity!
Real Time Results
Real time updates with Command Center. Never miss a result!
See Content Sources
See your results from web, Facebook, Twitter, blogs, forums and more!
Monitor Twitter Activity
See mentions, Tweets and retweets of you and your competitors in a single dashboard
Summary E-Mails for All
Online Results
Preparing daily, weekly and monthly online activity summaries is a tedious work. BoomTools helps you to get the highlights of the day in a single, well designed e-mail for easy tracking and reporting. Select your reporting frequency, choose the content channels you want, prepare your e-mailing list and let the results come to you!
Get your daily, weekly and monthly online result summaries with BoomTools!
Daily Summaries
Get the summary of your results in a single e-mail every day, see the big picture
Web & All Social Networks
Summary tables for all web and major social networks, including Facebook, Twitter and Youtube!
Unlimited Results
Reach unlimited results from social networks, websites, blogs, news sites and more.
Try BoomTools demo, be prepared for every crisis!