BoomSonar Suite is a real time web and social media monitoring and measurement platform. Designed and developed by Digital PR and Marketing Agency Tick Tock Boom, BoomSonar satisfies the social media monitoring needs of companies, brands and leaders. BoomSonar provides real time monitoring of the conversation online, gathering results for social media and websites.
Monitor the conversation about your brand, measure the key metrics, analyze the results of your marketing campaigns and compare with competitors in an all in one social media business platform!
Web
Monitoring
Monitor and report websites, blogs, forums and more!
Social Media Monitoring
Monitor conversations in social media, be a part of the buzz!
Real Time Search Results
All results are gathered in real time. Be first to hear!
Easy Data Processing
Categorize, tag and analyze your data with easy to use interface.
Download Your Reports
Save and process all your results in Excel and PowerPoint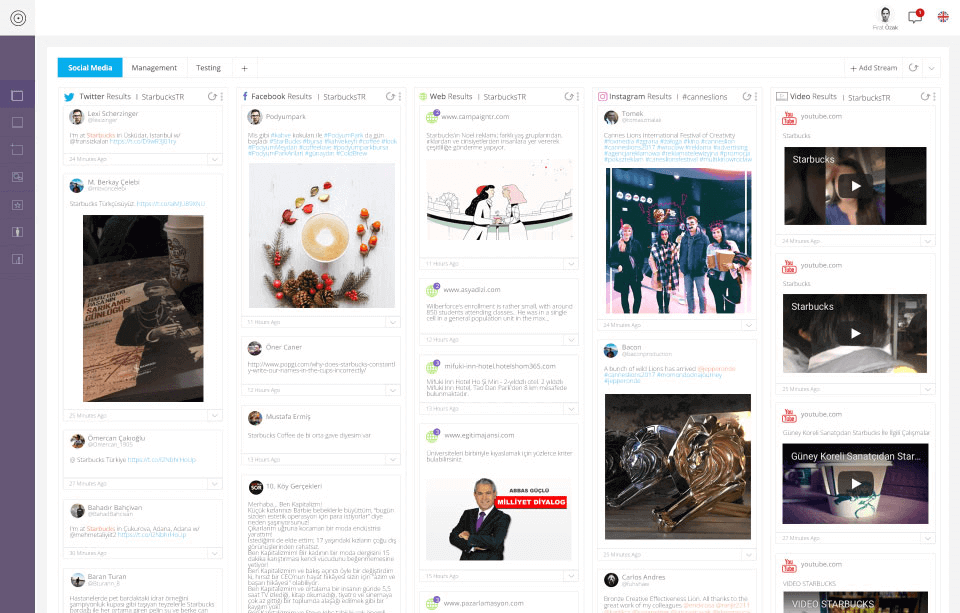 Listen the Conversation in
Real Time
BoomSonar is an integrated web and social media monitoring platform to listen the conversation, monitor the social media, measure the activity, analyze the results and protect your reputation. BoomSonar provides all the necessary information for analyzing the marketing campaigns, online perception of brands, products and leaders, crisis management, social customer relationship management (Social CRM) and more in real time!
Unlimited Results
Reach unlimited results from social networks, websites, blogs, news sites and more.
Monitor the Competition
Do not focus on only yourself. Follow your competition, monitor the competitors!
All Social Networks
BoomSonar provides coverage for all major social networks, including Facebook, Twitter and Youtube
Microsoft Excel Support
One-click export for all your data! Download your results and reports to Microsoft Excel.
Keyword Monitoring
Monitor your results with detailed keywords, use logical operators for more relevant results
Unlimited Archives
All your past results are kept in a ready to use archive. Compare your latest campaign with previous ones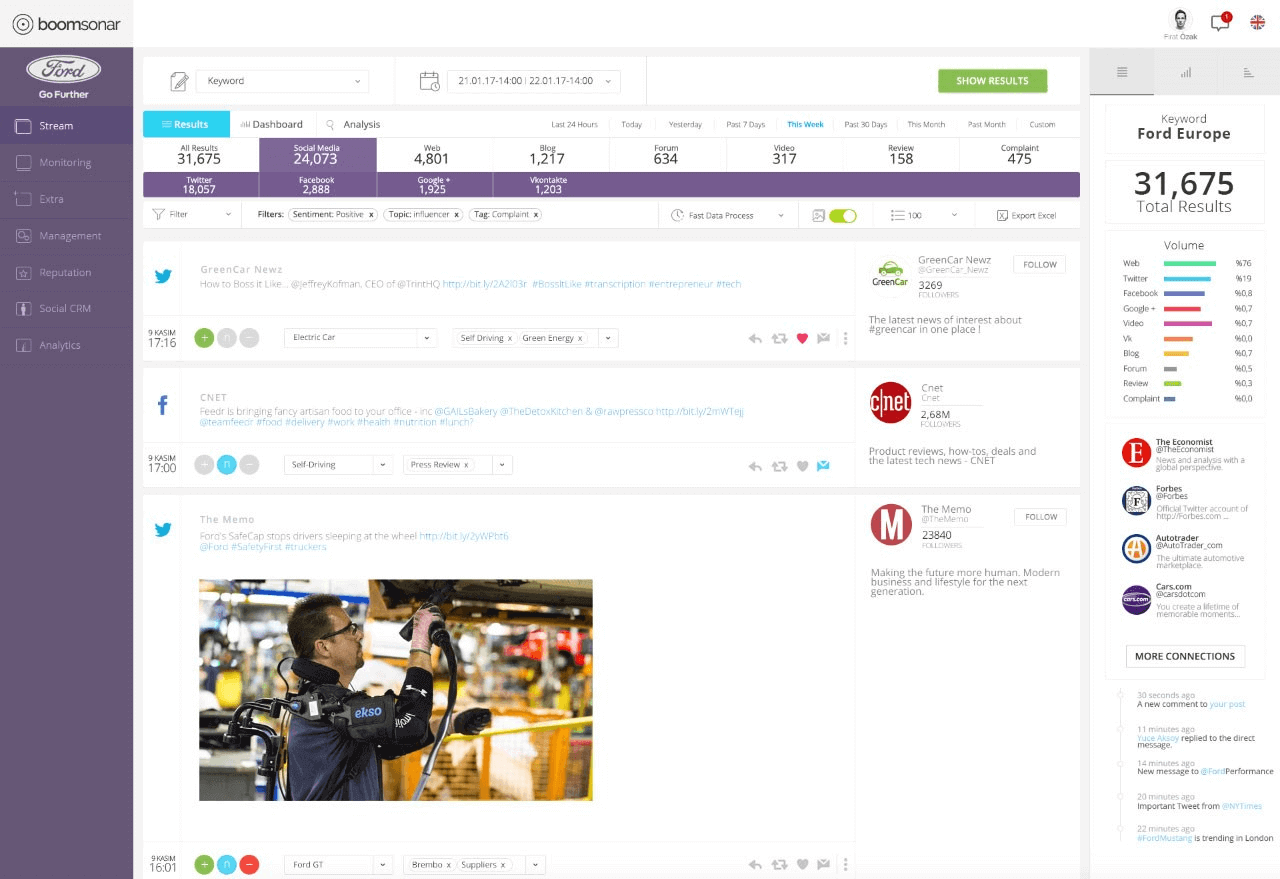 Be First

to Hear!

Listen the conversation, be first to hear! BoomSonar monitors all major social media channels, millions of websites, blogs, forums, news sites and video sites in real time. With BoomSonar real time social media monitoring, you will be the first one to know about the online buzz regarding your company, brand, products or leaders.
Real Time Results
Listen the conversations in real time, be the first one to know
Local News
Monitor local news sites and personal websites, discover trends in different regions
Time Based Search
Search by hours, follow the time-based trends in the buzz
Follow Blogs and Forums
Follow the results from millions of blogs and forums, know the opinions of bloggers
Rank Results by BoomScore
Rank your results by BoomScore, mark the most important content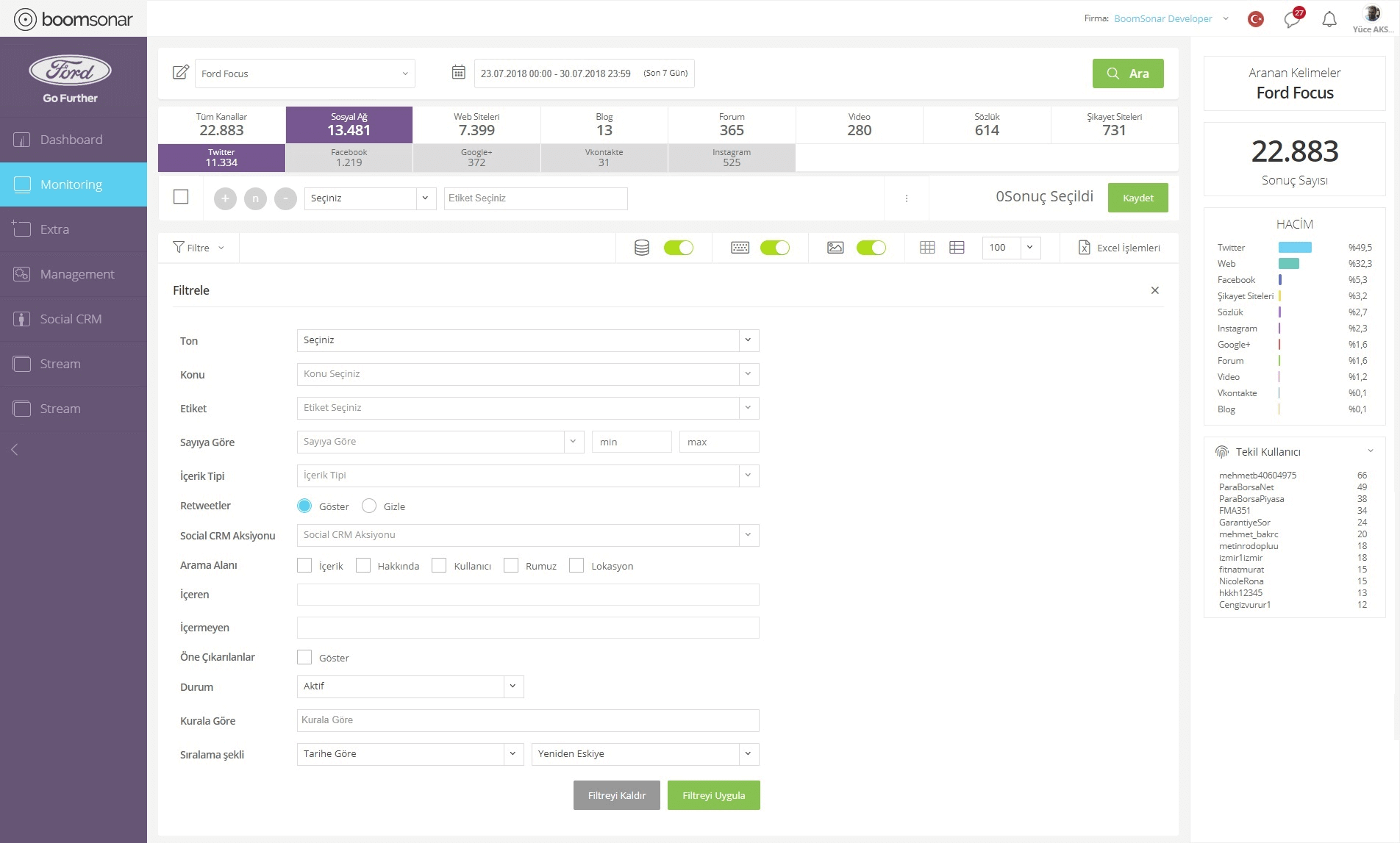 BoomSonar provides excellent tools for evaluating your results. In-depth analysis of big data allows you to hear new ideas and thoughts about your brand and competitors, find the brand ambassadors, reach hidden influencers and learn more about your perception. The extensive categorization of websites in BoomSonar helps you to discover trends in different website categories and local news. BoomSonar SmartAlgoritm® blocks all spam content, helping you to analyze your data more efficiently. Analyze big data online to gather real time insights, prepare custom reports and export your results!
Analyze Your Data with Few Clicks
Tag your data, categorize results, take notes and analyze the sentiment in a single dashboard
Spam-free Results with SmartAlgoritm®
BoomSonar SmartAlgoritm® provides excellent spam protection. Don't lose time with spam any more
Single Click Excel & PowerPoint Exports
Export your results to Excel and PowerPoint with a single click, download and share your analysis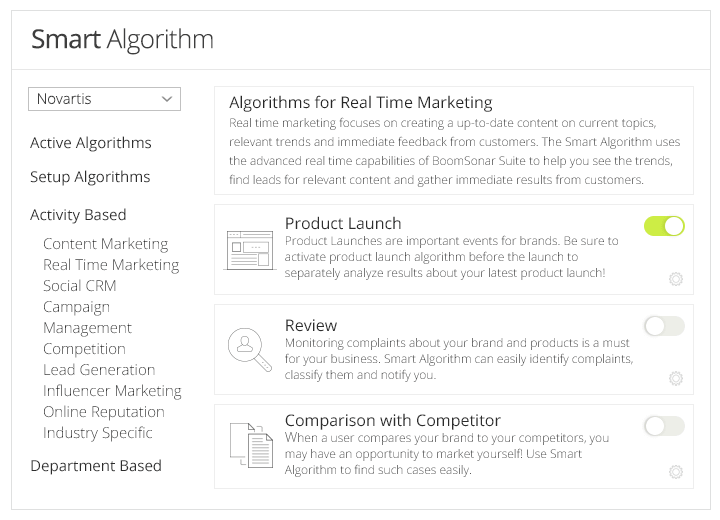 Easy to Use
Social Media Monitoring Tool
Designed for easy and flexible data processing, easy to use and intuitive dashboard of BoomSonar helps you to analyze your data with ease. You can search for millions of results in a second with the high performance dashboard! Keep an eye on the competition with customizable charts and tables, visualize the results and gather insights in a single dashboard.
High Performance
Search millions of results in a second! Never been this easy to analyze big data
Deep Filtering Options
Use multiple filters and in-depth result search to find the results you need
Single Click Data Processing
Batch data processing options to analyze thousands of results with a single click!
Try BoomSonar Suite's
Web and Social Media Monitoring Tool
Now!
Try the BoomSonar demo, start your real time monitoring and reporting!